Flash Professional CS5 and Flash Catalyst CS5 For Dummies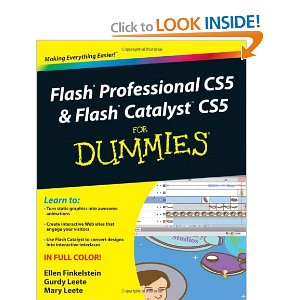 A full-color guide for getting rewarding results with the latest version of FlashFlash is used in the creation of Web animation, games, media rich Web sites, presentations, and more. Adobe has divided the new version of Flash into three separate products for different audiences, and this book covers the Professional product; the traditional animation/media serving tool; and Catalyst, the Web/interface design tool. This book provides a fun and friendly full-color guide to Flash.
Walks you through both Professional and Catalyst as well as the traditional Flash animation tool
Offers guidance for getting acquainted with the interface; creating images, objects, text, and layers for animation; and working with symbols and buttons
Introduces publishing online or on mobile phones
Addresses how to turn existing images into interactive sites or interfaces with Catalyst
Offers helpful tips on troubleshooting
Using the knowledge you gain from Flash CS5 Professional & Flash CS5 Catalyst For Dummies, you'll quickly prove that you are not a flash in the pan!
From the Back Cover
Unleash your creative side as you discover how to build animations, interactive graphics, and more
Are you ready to make the most of Flash to create stunning animated Web sites? With this book by your side, you'll find everything you need to get started using Flash Professional CS5 and Flash Catalyst CS5 right away. From playing around with graphics and designing your first animation to adding sound and interactivity to your site, you'll be amazed at what you can accomplish with these two tools!
Say it in pictures — get to know the tools for creating eye-popping graphics with Flash Professional
Move and groove — animate your graphic's position, shape, color, transparency, and more
Make your Web site stand out — find out how to use ActionScript® to create a totally interactive experience
Work smarter — use symbols, tweening, and inverse kinematics to simplify your work
Build Web sites fast — learn to import Adobe Photoshop® or Adobe Illustrator® designs into Flash Catalyst and add interactivity
Open the book and find:
Tips for using Flash Professional's unique graphics tools
Flash Catalyst's tools for turning artwork into an interactive site
How to organize complex animations
Techniques for adding sound and video
Ways to harness the full power of symbols
Secrets for animating graphics
Best practices for cool interactive Web sites
Methods for publishing Flash movies
Learn to:
Turn static graphics into awesome animations
Create interactive Web sites that engage your visitors
Use Flash Catalyst to convert designs into interactive interfaces
IN FULL COLOR!
Book Details
Paperback: 464 pages
Publisher: For Dummies (June, 2010)
Language: English
ISBN-10: 0470613556
ISBN-13: 978-0470613559
Download [14.5 MiB]