Facebook: The Missing Manual, 3rd Edition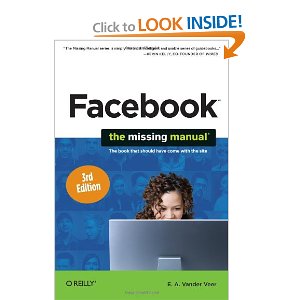 Facebook's spreading about as far and fast as the Web itself: 500 million members and counting. But there's a world of fun packed into the site that most folks miss. With this bestselling guide, learn how to unlock Facebook's talents as personal website creator, souped-up address book, and bustling community forum. It's an eye-opening, timesaving tour, guaranteed to help you get the most out of your Facebook experience.
Coverage includes:
Get started, get connected. Signing up is easy, but the real payoff comes when you tap into networks of coworkers, classmates, and friends. Pick and choose who gets to see what, and learn how to steer clear of people you want to avoid.
Add applications. Transform your Facebook account into an addictive, one-stop resource with thousands of mini-programs, ranging from silly to serious.
Go professional. Facebook isn't just for college kids. Thousands of companies and businesspeople use the site for everything from project collaboration and advertising to filling (and finding) jobs. You'll learn all the tricks.
Protect your privacy. You may feel too exposed with so much personal info on display. This book features an easy-to-follow, multi-pronged approach to staying safe on Facebook.
What You'll Find in the BookRegardless of why you're on Facebook (or thinking about registering), chances are you fall into at least one of the following categories: parent, student, or teacher.
If you're a parent, ask your kid to friend you (Chapter 3) so you can see what she's up to. Then tweak your settings (Chapter 5) to maximize the chance that if your daughter posts, say, a picture of herself at a concert that was held the night she was supposed to be home studying, you'll hear about it.
You taught your kids how to use a fork, and you need to teach your children how to act online, too—because, statistically speaking, they don't know. Studies show that most teens take what they read online at face value; don't realize that people outside their circle of friends can see what they put on Facebook; and routinely post inappropriate info, such as their home addresses. And this kind of behavior can have serious consequences, from cyber-bullying and cyber-stalking to lowered grades and job prospects (teachers and recruiters know how to use Facebook, too—and what your child posts today will be archived forever). Just knowing you're lurking in the Facebook shadows may be enough to keep your kid behaving appropriately.
If you're a student, you need to know how to keep your private life private on Facebook. You absolutely, positively need to read Chapter 13 and work through your privacy settings one by one. After you've done that, amp up your privacy by:
Keeping it clean. Facebook archives everything you put on the site, so the stuff you intended as a joke could cause you a lot of grief in a few years when, say, you meet the love of your life—or the recruiter for your dream job.
Going easy on the pix. Don't upload pictures that show you having more fun than you ought to have. Doesn't matter if you yank 'em down after your pals get a look: The instant you upload a picture, Facebook owns it and some alert somebody could save a copy and email it to everyone in existence before you remove it.
Assuming your profs, parents, best friend, and worst enemy can see everything you post. There are a lot of ways people can get access to your Facebook account, so don't assume that only your best buds can see what you do on the site—even if you tweaked your privacy settings, because those settings change over time and there's always a hack.
If you're a teacher, don't bother trying to use Facebook to teach. No study yet has shown that the site can be used effectively in education—and anecdotal evidence suggests that it can't. Students tend to think of Facebook as "their" place, not an exciting extension to the classroom, and there's little (if anything) you can do on Facebook that you can't accomplish behind a lectern.
However, if you're having trouble contacting students via email or phone—to remind them of an assignment coming due, for example—try befriending them on Facebook, adding them to a Friend List (Chapter 3), and sending them Messages (Chapter 4). If your students are college age, you'll likely get quicker responses that way.
While you're on Facebook, take a few minutes to peruse the profiles of any students riding the line between grades. You may be surprised at how many students whose grandmothers' sudden illnesses prevented them from taking your final somehow had time to post wild party photos from (one can only conclude) Grandma's bedside.
Book Details
Paperback: 288 pages
Publisher: O'Reilly Media; 3rd Edition (March 2011)
Language: English
ISBN-10: 1449397417
ISBN-13: 978-1449397418
Download [13.0 MiB]