Express Web Application Development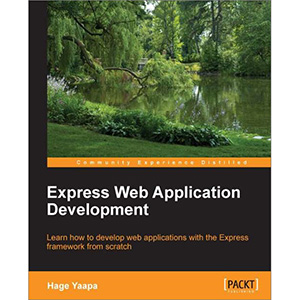 Express is a minimal and flexible node.js web application framework, providing a robust set of features for building single and multi-page, and hybrid web applications. It provides a thin layer of features fundamental to any web application, without obscuring features that developers know and love in node.js.
"Express Web Application Development" is a comprehensive guide for those looking to learn how to use the Express web framework for web application development.
Starting with the initial setup of the Express web framework, "Express Web Application Development" helps you to understand the fundamentals of the framework. By the end of "Express Web Application Development", you will have acquired enough knowledge and skills to create production-ready Express apps. All of this is made possible by the incremental introduction of more advanced topics, starting from the very essentials.
On the way to mastering Express for application development, we teach you the more advanced topics such as routes, views, middleware, forms, sessions, cookies and various other aspects of configuring an Express application. Jade; the recommended HTML template engine, and Stylus; the CSS pre-processor for Express, are covered in detail.
Last, but definitely not least, Express Web Application Development also covers practices and setups that are required to make Express apps production-ready.
What you will learn from this book
Understand the core concepts and objects that make up the Express framework and an Express app
Create Jade-based views for Express apps and render them
Create routes for an Express app and handle them
Serve different kinds of responses and handle various kinds of errors
Create dynamic apps using HTML forms, cookies, and sessions
Learn about the Jade HTML templating language in detail
Learn about the Stylus CSS pre-processor syntax and language in detail
Customize and prepare your Express apps to make them production ready
Approach
"Express Web Application Development" is a practical introduction to learning about Express. Each chapter introduces you to a different area of Express, using screenshots and examples to get you up and running as quickly as possible.
Who this book is for
If you are looking to use Express to build your next web application, "Express Web Application Development" will help you get started and take you right through to Express' advanced features. You will need to have an intermediate knowledge of JavaScript to get the most out of this book.
Book Details
Paperback: 236 pages
Publisher: Packt Publishing (June 2013)
Language: English
ISBN-10: 1849696543
ISBN-13: 978-1849696548
Download [6.4 MiB]