Adobe Dreamweaver CS6 Classroom in a Book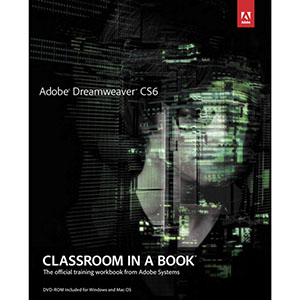 Creative professionals seeking the fastest, easiest, most comprehensive way to learn Adobe Dreamweaver CS6 choose Adobe Dreamweaver CS6: Classroom in a Book from the Adobe Creative Team. The 15 project-based lessons in this book show you step by step everything you need to know to work in Dreamweaver CS6. You'll learn to create a professional website without having to write code by hand.
This completely revised CS6 edition also covers HTML5, CSS3, and media queries for responsive web design. The book also shows how to create HTML-based headings, paragraphs, lists, and tables; insert graphics and Photoshop Smart Objects; add links to text and images; apply cascading styles sheets; and customize the Dreamweaver workspace. You'll also learn to add interactive elements to your sites, such as HTML5-compatible video and animation, get guidance for working with code, and finally publish a finished site to the Web.
The companion DVD includes all lesson files so you can work along with the book, as well as, two hours of free video tutorials from Adobe Dreamweaver CS6 Learn by Video.
Table of Contents
Chapter 1. Customizing Your Workspace
Chapter 2. HTML Basics
Chapter 3. CSS Basics
Chapter 4. Creating a Page Layout
Chapter 5. Working with Cascading Style Sheets
Chapter 6. Working with Templates
Chapter 7. Working with Text, Lists, and Tables
Chapter 8. Working with Images
Chapter 9. Working with Navigation
Chapter 10. Adding Interactivity and Mobile applications
Chapter 11. Working with Web Animation and Video
Chapter 12. Working with Forms
Chapter 13. Working with online data
Chapter 14. Building dynamic pages with data
Chapter 15. Working with Code
Book Details
Paperback: 448 pages
Publisher: Adobe Press (June 2012)
Language: English
ISBN-10: 0321822455
ISBN-13: 978-0321822451
Download [121.7 MiB]