The Elements of Content Strategy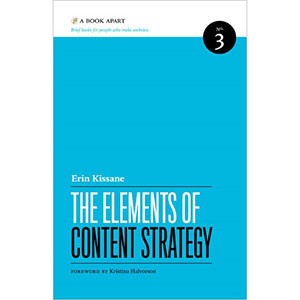 Content strategy is the web's hottest new thing. But where did it come from? Why does it matter? And what does the content renaissance mean for you? This brief guide explores content strategy's roots, and quickly and expertly demonstrates not only how it's done, but how you can do it well. A compelling read for both experienced content strategists and those making the transition from other fields.
Table of Contents
Chapter 1. Basic Principles
Chapter 2. The Craft of Content Strategy
Chapter 3. Tools and Techniques
Bonus Track: How Do I Get In?
About the Author
I'm a content strategist, editor, and writer. I help people plan for, design, make, publish, and maintain really good content online. I live in NYC and work for Brain Traffic, a fantastico content strategy consultancy in Minneapolis. Before joining Brain Traffic, I was an indie content specialist, the editorial director of Happy Cog Studios, and a freelance writer and editor.
My new book, The Elements of Content Strategy, was published in March of 2011 by A Book Apart. You can read an excerpt at A List Apart magazine, or buy it direct from the publisher in a beautiful paperback edition, as a set of DRM-free ebook files, or both.
Book Details
Paperback: 79 pages
Publisher: A Book Apart (2010)
Language: English
ISBN-10: 0984442553
ISBN-13: 978-0984442553
Download [7.0 MiB]