Drupal 7 Cookbook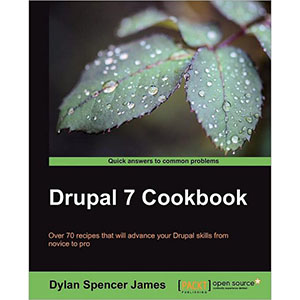 Drupal 7 is a modern Content Management System famed for its flexibility and power. Using Drupal you can easily create custom functionality that would otherwise have to be purchased in many of the other leading CMSs.
"Drupal 7 Cookbook" is filled with recipes to help you to do more with Drupal and improve your skills. Chapters range from content creation, to theming, to managing your site. You will learn how to create your own content types and use them to create Views, Blocks, and Pages. This book will take you from novice to pro in just 12 chapters.
In a wide variety of practical recipes, you will learn how to work with views and panels, how to provide translations for your content to create a multilingual site, and to integrate your site with social media. You can develop the Zen starter theme or learn how to create custom cross-browser compatible Drupal themes, including themes for mobile devices. The Drupal 7 Cookbook contains all of the means necessary to take your skills from those of a novice Drupal user to a proficient site builder.
What you will learn from this book
Create and work with content nodes
Organize your site with Blocks and Menu Blocks
Work with Views and Custom Content Types (CCK)
Building pages using Panels
Personalize your site with a document library, an image slideshow, or a custom Drupal 7 theme
Learn how to provide your site visitors with multilingual content
Manage user accounts, roles, and permissions
Maintain, optimize and back up your Drupal site
Approach
As part of Packt's cookbook series, this book is packed with practical recipes that you can read as and when you need or want to.
Who this book is written for
This book is for people who are familiar with the concepts of web development and CMS. If you have previous experience of working with Drupal, then this book will further your knowledge and give you ideas for fun new things to do with Drupal.
Book Details
Paperback: 324 pages
Publisher: Packt Publishing (July 2012)
Language: English
ISBN-10: 1849517967
ISBN-13: 978-1849517966
Download [19.9 MiB]