Droid X2: The Missing Manual, 2nd Edition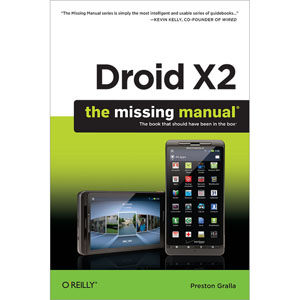 Droid X2 has more power and better graphics than its predecessor, but it still doesn't offer a printed guide to its amazing features. This Missing Manual helps you dig deep into everything Droid X2 can do. Learn how to shop, keep in touch, play with photos, listen to music, and even do some work. Unleash the power of this popular device with expert advice.
The important stuff you need to know:
Get organized. Sync Droid X2 with Google Calendar, Exchange, and Outlook.
Go online. Navigate the Web, use email, and tap into Facebook and Twitter.
Listen to tunes. Play and manage music using Droid X2's Music app and Google's Music Cloud Player.
Shoot photos and video. View and edit photos, slideshows, and video in the Gallery.
Connect to Google Maps. Use geotagging and get turn-by-turn directions.
Stay productive. Create, edit, and store documents with Google Docs and Microsoft Office.
About the Author
Preston Gralla is the editor of WindowsDevCenter.com and OnDotNet. He is the author of more than 30 books, including Internet Annoyances, PC Pest Control, and Windows XP Hacks, Second Edition, and co-author of Windows XP Cookbook. As an award-winning author and technology expert, Preston has written articles for major national newspapers and magazines and has also appeared on several TV and radio programs.
Book Details
Paperback: 422 pages
Publisher: O'Reilly Media / Pogue Press; 2nd Edition (September 2011)
Language: English
ISBN-10: 1449396860
ISBN-13: 978-1449396862
Download [74.1 MiB]