Droid X: The Missing Manual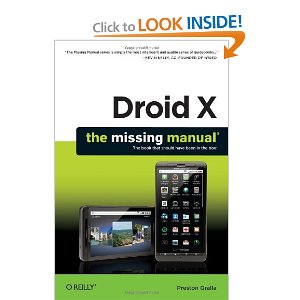 Get the most from your Droid X right away with this entertaining Missing Manual. Veteran tech author Preston Gralla offers a guided tour of every feature, with lots of expert tips and tricks along the way. You'll learn how to use calling and texting features, take and share photos, enjoy streaming music and video, and much more.
Packed with full-color illustrations, this engaging book covers everything from getting started to advanced features and troubleshooting. Unleash the power of Motorola's hot new device with Droid X: The Missing Manual.
Get organized. Import your contacts and sync with Google Calendar and Microsoft Exchange.
Go online. Get your phone to act as a portable hotspot or as a modem to get your laptop online.
Play music. Purchase music from Amazon and sync your Droid X with Windows Media Player and iTunes.
Shoot photos and video. Edit and share your photos, and use them as desktop or icon images. Record video and share it with your friends.
Connect to Google Maps. Use geotagging and get turn-by-turn directions.
About the Author
Preston Gralla is the editor of WindowsDevCenter.com and OnDotNet. He is the author of more than 30 books, including Internet Annoyances, PC Pest Control, and Windows XP Hacks, Second Edition, and co-author of Windows XP Cookbook. As an award-winning author and technology expert, Preston has written articles for major national newspapers and magazines and has also appeared on several TV and radio programs.
Book Details
Paperback: 384 pages
Publisher: O'Reilly Media (February, 2011)
Language: English
ISBN-10: 1449393861
ISBN-13: 978-1449393861
Download [63.5 MiB]