Digital Capture After Dark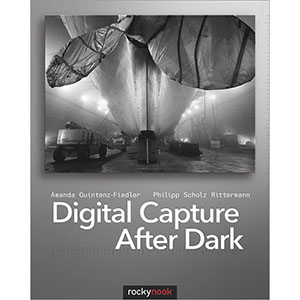 The pitfalls of photographing at night are many. Autofocus and built-in light meters generally fail at night. Long exposures tend to make noisy or blurry photographs. Cameras set to automatic generally trigger the built-in flash in low light conditions, which results in unsatisfying images. Lack of understanding and inappropriate techniques often ruin the dramatic potential of nighttime images.
In Digital Capture After Dark you will learn to overcome these and other obstacles. You will go beyond the many "how-to's" of capturing digital images at night to the "why-to's" of long exposure photography; including the importance of how we think and see at night compared to during the day.
Also discussed are hands-on image editing techniques that will help you prepare your images for output. Detailed descriptions cover color balancing, expanding dynamic range, controlling flare, dealing with noise, converting to black-and-white, toning, and much more.
Table of Contents
Part I: Preparations
Chapter 1. Equipment
Chapter 2. Getting Started
Chapter 3. Caveats
Part II: Capture
Chapter 4. What to Photograph
Chapter 5. From Dusk 'Til Dawn
Chapter 6. Atmospheric Conditions
Chapter 7. Movement
Chapter 8. Light Painting
Part III: After Capture
Chapter 9. Basic File Processing
Chapter 10. Increasing Dynamic Range
Chapter 11. Selective Smart Sharpening
Chapter 12. Black-and-White, Color, or Somewhere in Between?
Chapter 13. Panoramic HDR Imaging at Night
Book Details
Paperback: 192 pages
Publisher: Rocky Nook (January 2013)
Language: English
ISBN-10: 1933952660
ISBN-13: 978-1933952666
Download [180.7 MiB]