Developing Android on Android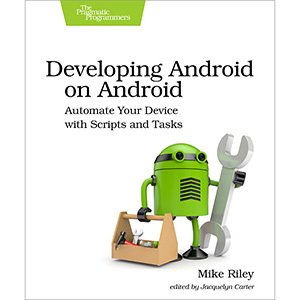 Take charge of your Android phone or tablet by creating your own programs and scripts to make your device work for you. Developing Android on Android will teach you how to use the latest cutting-edge technologies to tailor your Android experience to your mobile lifestyle.
Write scripts that listen to your voice and post spoken tweets on Twitter. Track your phone's status and have it report its location every ten minutes via an instant message. Query and listen to weather forecasts with the click of a headset button. Have system notifications and new SMS messages automatically read to you. Design your own application launcher with a look and behavior that can be dynamically modified depending on the scripts and applications you execute.
With step-by-step instructions throughout, you'll master how to develop your own custom applications. And because you'll be using programming tools on your Android, you can change and improve your programs at any time. You'll build new Android programs and task-driven on-board workflows faster than any traditional Android development environment could hope to match!
What You Need
An Android smartphone or tablet running Android 4.0 or higher.
Table of Contents
Part I: Customize
Chapter 1. Getting Started
Chapter 2. Personalizing Your Home Screen
Chapter 3. Listening to Your Android
Part II: Explore
Chapter 4. Automating with Tasker
Chapter 5. Scripting with SL4A
Chapter 6. Programming with AIDE
Part III: Build
Chapter 7. Tasker Pomodoro Widget
Chapter 8. Messaging Projects
Chapter 9. Notification Projects
Chapter 10. Graphics Projects
Part IV: Appendixes
Appendix A1. Android Programming Tools
Appendix A2. Resources on the Web
Book Details
Paperback: 220 pages
Publisher: Pragmatic Bookshelf (November 2013)
Language: English
ISBN-10: 1937785548
ISBN-13: 978-1937785543
Download [30.1 MiB]