Design Thinking Business Analysis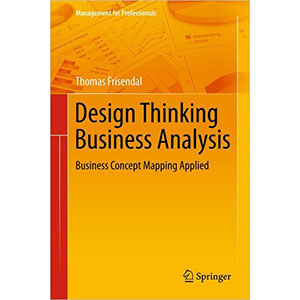 This book undertakes to marry the concepts of Concept Mapping with a Design Thinking approach in the context of business analysis. While in the past a lot of attention has been paid to the business process side, this book now focusses information quality and valuation, master data and hierarchy management, business rules automation and business semantics as examples for business innovation opportunities. The book shows how to take Business Concept Maps further as information models for new IT paradigms. In a way this books redefines and extends business analysis towards solutions that can be described as business synthesis or business development. Business modellers, analysts and controllers, as well as enterprise information architects, will benefit from the intuitive modelling and designing approach presented in this book. The pragmatic and agile methods presented can be directly applied to improve the way organizations manage their business concepts and their relationships.
Aligns Business Information technology and processes
Applies modern Design Thinking approach to Business Information
Helps to drive innovation by using Concept Mapping techniques
"This book is a great contribution to the information management community.  It combines a theoretical foundation with practical methods for dealing with important problems. This is rare and very useful. Conceptual models that communicate business reality effectively require some degree of creative imagination. As such, they combine the results of business analysis with communication design, as is extensively covered in this book."
–Dr. Malcolm Chisholm, President at AskGet.com Inc.
"Truly understanding business requirements has always been a major stumbling block in business intelligence (BI) projects. In this book, Thomas Frisendal introduces a powerful technique—business concept mapping—that creates a virtual mind-meld between business users and business analysts. Frisendal does a wonderful explaining and demonstrating how this tool can improve the outcome of BI and other development projects ."
–Wayne Eckerson, executive director, BI Leadership Forum
"This book addresses the timely topic of how businesses can become more effective by allowing its stakeholders to analyse their business domain better than before. The good news for the reader is that the naturality of the models used in the book today have direct applicability in software systems, which means the changes in business can be faster reflected in IT."
–Dr. Janne Saarela, CEO of Profium – pioneer of enterprise semantics
Table of Contents
Chapter 1. Introduction
Part I: Design Thinking Business Analysis
Chapter 2. Understanding the Business
Chapter 3. Design Thinking for Business Analysis
Chapter 4. Business Analysis Redefined
Part II: Business Concept Mapping
Chapter 5. Where to Find Meaningful Business Information?
Chapter 6. How to Do Concept Mapping
Part III: Business Innovation Using Mapped Business Concepts
Chapter 7. Concept Mapping and the Next Generation IT Paradigms
Chapter 8. Opportunity: Reliable Business Information and MDM
Chapter 9. Opportunity: Information Valuation
Chapter 10. Opportunity: Meaningful Business Intelligence
Chapter 11. Opportunity: Business Rules Automation
Chapter 12. Opportunity: Reusable Business Information
Chapter 13. Opportunity: Open Information Sharing
Chapter 14. Opportunity: Pull Instead of Push
Chapter 15. Opportunity: NoSQL and Big Data
Chapter 16. Think Big, Start Small: Deliver Value to the Business
Book Details
Hardcover: 143 pages
Publisher: Springer (September 2012)
Language: English
ISBN-10: 3642328431
ISBN-13: 978-3642328435
Download [4.4 MiB]