Oracle E-Business Suite R12 Core Development and Extension Cookbook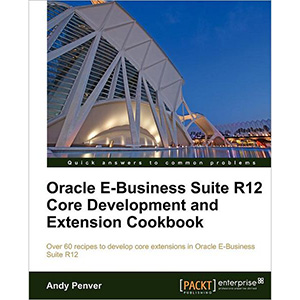 Oracle's suite of applications is used by many major businesses and public sector organizations throughout the world. The book will show you how to build different types of extensions with different toolsets with Oracle E-Business Suite R12. It will take you from start to finish with fully working examples.
This book will show you how to extend Oracle E-Business Suite Release 12. You will learn highly desirable skills on how to extend the application and develop your expertise. The book will provide detailed information about why things have to be done in certain ways, and will take you through the process of how to get started, what tools are needed, how to develop working examples, and how to deploy them within the application.
Learn how to extend Oracle E-Business Suite (EBS) Release 12. There are detailed examples to work through, such as how various components are configured and how we can extend standard functionality. The book focuses on core development and extension and each chapter will introduce a topic before going through working examples from start to finish. There are plenty of detailed screen shots throughout each chapter giving clear instructions of what we are doing and why. Each recipe will develop a solution that will utilize core components to that topic. The Oracle E-Business Suite R12 Core Development and Extension Cookbook focuses on starting an extension right from the beginning, to deploying it within E-Business Suite. At the end of each chapter the reader will have a good understanding of what they need to do for each area to take away, and start using it in practice.
Each chapter will detail how to build an extension in the supported manner and also comes with complete fully tested code, and scripts that can be downloaded.
What you will learn from this book
Get an overview of the architecture of Release 12; learn about the file system and where files need to go.
Configure concurrent programs which launch executable programs such as a database package or a host program.
Understand how to write to a concurrent program log, and output files.
Add a query screen to forms and learn how to pass parameters.
Configure forms in E-Business Suite, create functions and add them to menus.
Create tabs and add code to control them. Create items with lookups, use widgets for date fields and add drop down lists.
Build a fully working form with most of the components you are ever likely to utilize.
Understand the personalization screen. Change properties to hide fields and move them around. Change labels and even alter a list of values.
Create personalizations to perform validation and display a message. Perform actions such as launching a form, adding items to menus or icons to toolbars.
Understand Oracle workflow and create a workflow that is triggered by a business event from an XML message on an advanced queue.
Build a workflow with functions, lookups, sub-processes and notifications.
Learn how to deploy a workflow and test it – viewing its status and monitoring progress.
Approach
This is a practical, hands-on book providing in depth tutorials on each topic. It is full of step by step examples of the key points for each subject to give a core understanding. The examples are designed to be worked through, and start right from scratch. Each topic will cover the development, configuration and testing of working examples. The book provides clear illustrations and tips each step of the way. It also comes with fully tested, complete, working code – if ever you get stuck. Each chapter introduces the topic and what you need to do to get ready to start the exercises. It will tell you what tools you need to use and when to use them.
Who this book is for
This book is written for individuals who want to learn how to develop extensions in Oracle E-Business suite. If you are involved in development or supporting an e-business suite implementation you should find this book very useful. The book is detailed so minimal technical expertise is required. It is suitable for beginners who have little experience or developers who may want to use the book to brush up on their skills.
Book Details
Paperback: 480 pages
Publisher: Packt Publishing (May 2012)
Language: English
ISBN-10: 1849684847
ISBN-13: 978-1849684842
Download [11.0 MiB]