Instant GIMP Starter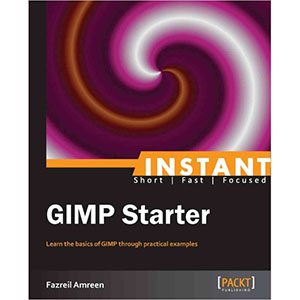 Image manipulation is being used by professionals all over the world. Beautiful pictures can be achieved by combining technology with art. GIMP.  the GNU Image Manipulation Program, makes them accessible to everyone. GIMP is. With it, anyone can express their emotional and intellectual capability in a new dimension.
"Instant GIMP Starter" is a book that provides a new generation of artists with new techniques and tools in a comprehensive format. A range of task from drawing simple images to composing multiple pictures in an image are covered in this book.
This book walks you through the journey of learning various tools and gets the reader to create exciting artworks, one after another.
Although the book focuses on each step of producing wonderful effects with GIMP to anyone with basic computer skills, it also delivers information that can be used for school projects or corporate presentations. You will have a set of great photos when you learn how to apply special effects.
You will have amazing tools to work with to satisfy your creativity and an endless chain of beautiful images you never knew you could come up with.
What you will learn from this book
Draw an image from scratch
Color images on canvas
Manage your images with layers
Draw a graph precisely
Shade your images with gradient effects
Scale, transform, and rotate images
Use filters to beautify the image
Make a dinosaur appear in your picture
Approach
Get to grips with a new technology, understand what it is and what it can do for you, and then get to work with the most important features and tasks. A Starter guide which helps you practically start with GIMP through plenty of examples and screenshots.
Who this book is for
This is an excellent handbook for anyone who would like to start drawing using their computers. The approach used within this book is objective so that readers from any age will be able to learn the process. The setup is so basic that you will need only a computer and a very minimal amount of computer literacy to start using this book.
Book Details
Paperback: 80 pages
Publisher: Packt Publishing (January 2013)
Language: English
ISBN-10: 1782160345
ISBN-13: 978-1782160342
Download [19.8 MiB]