Creating DSLR Video: From Snapshots to Great Shots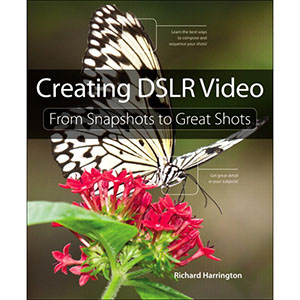 Nearly every DLSR camera available today also shoots beautiful high-definition video. YouTube and Facebook are bursting with user-generated content as people share their memories and travels.  Whether it's highlights from a great vacation, the kids' soccer game, or family gatherings, everyone wants to create compelling video to document it.  While DSLR cameras are quite capable of shooting video, for many, their foray into video shooting can be frustrating. Footage tends to be dark and out of focus and suffers from camera shake and bad audio.
In Creating DSLR Video: From Snapshots to Great Shots, photographer and video expert Rich Harrington demystifies the process and teaches a solid foundation for capturing great video. Whether readers have been dabbling in video already or have never even used that mode on their camera, they will learn how to go from capturing mediocre video to creating compelling footage–and all the steps in between!
Readers will also learn the essentials of video editing and publishing to the web; how to make the most of their existing equipment; affordable options to improve video capture; and much more! To supplement the book, readers will gain sample videos that further demonstrate the techniques presented in the book.
Table of Contents
Chapter 1. What Is DSLR Video?
Chapter 2. Essential Equipment
Chapter 3. Setting Up Your Camera
Chapter 4. Exposure and Focus
Chapter 5. Composing Shots
Chapter 6. Shooting in Daylight
Chapter 7. Shooting in Low Light
Chapter 8. Shooting Indoors
Chapter 9. Recording Sound
Chapter 10. Backing Up and Organizing Your Footage
Chapter 11. Editing Essentials
Chapter 12. Publishing and Sharing Video
Book Details
Paperback: 288 pages
Publisher: Peachpit Press (March 2012)
Language: English
ISBN-10: 0321814878
ISBN-13: 978-0321814876
Download [66.5 MiB]