Content Strategy for the Web, 2nd Edition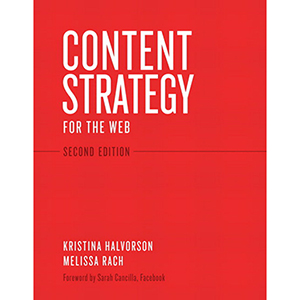 FROM CONSTANT CRISIS TO SUSTAINABLE SUCCESS
BETTER CONTENT MEANS BETTER BUSINESS. Your content is a mess: the website redesigns didn't help, and the new CMS just made things worse. Or, maybe your content is full of potential: you know new revenue and cost-savings opportunities exist, but you're not sure where to start. How can you realize the value of content while planning for its long-term success?
For organizations all over the world, Content Strategy for the Web is the go-to content strategy handbook. Read it to:
Understand content strategy and its business value
Discover the processes and people behind a successful content strategy
Make smarter, achievable decisions about what content to create and how
Find out how to build a business case for content strategy
With all-new chapters, updated material, case studies, and more, the second edition of Content Strategy for the Web is an essential guide for anyone who works with content.
Review
"In the space of a few chapters, Kristina Halvorson's little book changed our field forever for the better. This second edition retains all that was wonderful in the first book while yielding dazzling new insights into the hows and whys of content strategy." –Jeffrey Zeldman, author, Designing With Web Standards
"Kristina Halvorson and her company Brain Traffic are central to the emerging content strategy discipline." –James Mathewson, Search Strategy and Expertise Lead, IBM
"Content Strategy for the Web touched off the explosive growth of content strategy and its recognition as a critical field of practice. Amazingly, this second edition doesn't just keep up: it pushes content strategy in a more mature–and valuable–direction." –Louis Rosenfeld, author of Information Architecture for the World Wide Web
"This book is the most important thing to happen to user experience design in years." –Peter Morville, author, Information Architecture for the World Wide Web and Ambient Findability
"Content Strategy for the Web gives you the tools you need to get the right content to the right people in the right place at the right time. Essential reading for marketers everywhere." –Ann Handley, CMO, MarketingProfs.com and author, Content Rules
"This is the go-to handbook for creating an effective content strategy. The Post-it® notes and dog-eared pages in my copy are evidence of that!" — Aaro n Watkins, Director of Digital Strategy, Johns Hopkins Medicine
"By far the most comprehensive and accessible book on content strategy available. Required reading for our entire team" – Lucie Hyde, Director of Content, eBay Europe
Book Details
Paperback: 216 pages
Publisher: New Riders Press; 2nd Edition (March 2012)
Language: English
ISBN-10: 0321808304
ISBN-13: 978-0321808301
Download [6.8 MiB]