Affiliate Program Management: An Hour a Day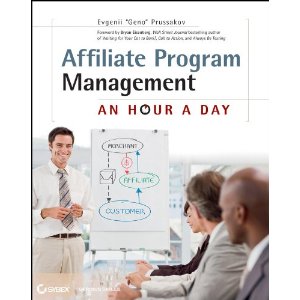 Affiliate marketing is hot; here's how to get your program going
Nearly every retailer in the Internet Retailers' Top 500 has an affiliate marketing program. Now free affiliate networks, automation software, and pay-for-performance compensation models are making it easy for small businesses to take advantage of this marketing tool. In the popular An Hour a Day format, this guide features a detailed, real-world, task-based approach to developing, launching, and managing a successful affiliate marketing program. It explores market research, determining payment models and reporting guidelines, recruiting affiliates, crafting appropriate communications, and much more.
Affiliate marketing programs help boost marketing efforts without incurring excessive costs; this Hour a Day guide provides everything merchants, business owners, and those charged with managing an affiliate program need to know
Offers a modern, real-world, step-by-step guide to researching, launching, managing, and optimizing a successful affiliate marketing program
Covers social media; creating policies; working with feeds, coupons, widgets, and video; creating compelling content; handling partners who are not meeting goals; and much more
Affiliate Program Management: An Hour a Day is the do-it-yourself guide to planning and maintaining a successful affiliate program.
From the Back Cover
This thorough guide shows you step by step how to research, launch, manage, and grow a successful online affiliate marketing program. Written by an acclaimed expert affiliate manager, this detailed book breaks down intimidating aspects into practical, approachable, day-by-day tasks, covering everything from performing market research and setting up competitive program terms to recruiting affiliates, motivating them to perform, and more.
Do crucial pre-launch research on various payment models, your competition, and how best to set up tracking, reporting, and data feeds
Set up competitive affiliate program terms
Launch the program and recruit affiliates into it
Understand the importance of an individualized approach to affiliates, and learn how to market to the marketers
Use KPIs, metrics, competitive intelligence, and split testing to optimize performance
Avoid the deadliest affiliate management mistakes and such pitfalls as cookie overwriting, trademark violation, and others
You'll also find:
Essential hints, tips, and techniques for everyone from one-person shops to Fortune 500 companies
Twenty-five ready-made affiliate program promotion ideas
Real-world case studies that illustrate successes to learn from and mistakes to avoid
Praise for Affiliate Program Management: An Hour a Day
"Well-written and completely comprehensive, this is a must-read for merchants who want to expand brand awareness and increase sales through affiliate marketing."
—Rosalind Gardner, speaker and affiliate marketing consultant, and author of The Super Affiliate Handbook and Make a Fortune Promoting Other People's Stuff Online
"It's all here, from what to do and why to do it to exactly how to do it, step by step. This book will ensure you have the knowledge you need to get it done the right way, the first time."
—Jim Kukral, ten-year affiliate marketing veteran and author of Attention! This Book Will Make You Money
"Geno has clearly been in the affiliate marketing trenches. Not only will you learn everything you need to know, but just as importantly, you'll learn what not to do! This is a must-read."
—Scott Allan, VP of Marketing, LinkShare Corporation
"This is the best affiliate marketing guide available. No one knows the field like Geno Prussakov."
—Anita Campbell, CEO, Small Business Trends
"With clear explanations, plentiful real-world examples, and fantastic resource lists, this book is a comprehensive compendium of up-to-date knowledge from a leader in the field."
—Alicia Navarro, cofounder and CEO, Skimlinks
Book Details
Paperback: 456 pages
Publisher: Sybex (April 2011)
Language: English
ISBN-10: 0470651733
ISBN-13: 978-0470651735
Download [16.0 MiB]