CompTIA Security+ SYO-201 Cert Guide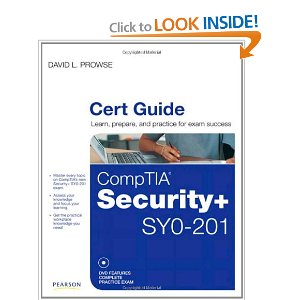 Start-to-finish Security+ SY0-201 preparation from computer security consultant, Security+ trainer, and author David L. Prowse.
Master every Security+ SY0-201 topic!
Core computer system security concepts
OS hardening and virtualization
Application security
Network design elements and threats
Perimeter security
Network media and devices security
Physical security and authentication models
Access control methods and models
Vulnerability and risk assessment
Monitoring and auditing
Cryptography, including PKI
Redundancy and disaster recovery
Policies, procedures, and people
Test your knowledge, build your confidence, and succeed!
Two practice exams in the book, and an additional exam on the DVD, help you prepare and assess your readiness
Packed with visuals to help you learn quickly
Key topics are highlighted to focus your study
Exam preparation tasks include a review of key topics, memory table exercises, key terms, hands-on labs, and review questions
From the Back Cover
The ultimate core self-study guide for the latest CompTIA Security+ exam: the most comprehensive print and video reference available!
Case studies and video solutions to the hands-on labs in each chapter, to help students practice what they've learned
Three full practice tests based on the real Security + exam
Exclusive memory tables, study strategies, tips, cautions, key terms, troubleshooting scenarios, and more
This is the most comprehensive core self-study tool for CompTIA's latest Security+ exam. Perfect for every candidate preparing for this challenging exam, its comprehensive coverage offers all the information and insight you need to succeed. From start to finish, the book has been organized and edited to improve retention and help network and security professionals focus on areas where they need the most assistance. Its features include: clear explanations, review questions, two practice exams, memory tables, key topics, key terms, hands-on labs, and a complete glossary. It also contains an additional full practice exam on the DVD. The DVD also has video solutions to the hands-on labs. Security training expert David L. Prowse covers every Security+ exam objective, including computer system security concepts; OS hardening and virtualization; application security; network design elements and threats; perimeter security; securing media and devices; physical security; authentication; access control; vulnerability and risk assessment; monitoring and auditing; cryptography; redundancy and disaster recovery; policies, procedures, and people; and more.
Book Details
Hardcover: 624 pages
Publisher: Pearson IT (November, 2010)
Language: English
ISBN-10: 0789747138
ISBN-13: 978-0789747136
Download [14.3 MiB]