CCNA Security 640-554 Official Cert Guide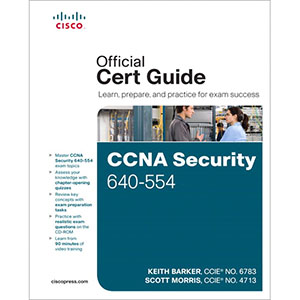 Trust the best selling Official Cert Guide series from Cisco Press to help you learn, prepare, and practice for exam success. They are built with the objective of providing assessment, review, and practice to help ensure you are fully prepared for your certification exam.
CCNA Security 640-554 Official Cert Guide presents you with an organized test preparation routine through the use of proven series elements and techniques. "Do I Know This Already?" quizzes open each chapter and enable you to decide how much time you need to spend on each section. Exam topic lists make referencing easy. Chapter-ending Exam Preparation Tasks help you drill on key concepts you must know thoroughly.
Master Cisco CCNA Security 640-554 exam topics
Assess your knowledge with chapter-opening quizzes
Review key concepts with exam preparation tasks
Practice with realistic exam questions on the CD-ROM
CCNA Security 640-554 Official Cert Guide, focuses specifically on the objectives for the Cisco CCNA Security IINS exam. Expert networking professionals Keith Barker and Scott Morris share preparation hints and test-taking tips, helping you identify areas of weakness and improve both your conceptual knowledge and hands-on skills. Material is presented in a concise manner, focusing on increasing your understanding and retention of exam topics.
The companion CD-ROM contains a powerful Pearson IT Certification Practice Test engine that enables you to focus on individual topic areas or take complete, timed exams. The assessment engine also tracks your performance and provides feedback on a module-by-module basis, laying out a complete assessment of your knowledge to help you focus your study where it is needed most. The CD also contains 90 minutes of video training on CCP, NAT, object groups, ACLs, port security on a Layer 2 switch, CP3L, and zone-based firewalls.
Well-regarded for its level of detail, assessment features, comprehensive design scenarios, and challenging review questions and exercises, this official study guide helps you master the concepts and techniques that will enable you to succeed on the exam the first time.
The official study guide helps you master all the topics on the CCNA Security IINS exam, including:
Network security concepts
Security policies and strategies
Network foundation protection (NFP)
Cisco Configuration Professional (CCP)
Management plane security
AAA security
Layer 2 security threats
IPv6 security
Threat mitigation and containment
Access Control Lists (ACLs)
Network Address Translation (NAT)
Cisco IOS zone-based firewalls and ASA firewalls
Intrusion prevention and detection systems
Public Key Infrastructure (PKI) and cryptography
Site-to-site IPsec VPNs and SSL VPNs
Table of Contents
Part I: Fundamentals of Network Security
Chapter 1. Networking Security Concepts
Chapter 2. Understanding Security Policies Using a Lifecycle Approach
Chapter 3. Building a Security Strategy
Part II: Protecting the Network Infrastructure
Chapter 4. Network Foundation Protection
Chapter 5. Using Cisco Configuration Professional to Protect the Network Infrastructure
Chapter 6. Securing the Management Plane on Cisco IOS Devices
Chapter 7. Implementing AAA Using IOS and the ACS Server
Chapter 8. Securing Layer 2 Technologies
Chapter 9. Securing the Data Plane in IPv6
Part III: Mitigating and Controlling Threats
Chapter 10. Planning a Threat Control Strategy
Chapter 11. Using Access Control Lists for Threat Mitigation
Chapter 12. Understanding Firewall Fundamentals
Chapter 13. Implementing Cisco IOS Zone-Based Firewalls
Chapter 14. Configuring Basic Firewall Policies on Cisco ASA
Chapter 15. Cisco IPS/IDS Fundamentals
Chapter 16. Implementing IOS-Based IPS
Part IV: Using VPNs for Secure Connectivity
Chapter 17. Fundamentals of VPN Technology
Chapter 18. Fundamentals of the Public Key Infrastructure
Chapter 19. Fundamentals of IP Security
Chapter 20. Implementing IPsec Site-to-Site VPNs
Chapter 21. Implementing SSL VPNs Using Cisco ASA
Chapter 22. Final Preparation
Appendix A. Answers to the "Do I Know This Already?" Quizzes
Appendix B. CCNA Security 640-554 (IINSv2) Exam Updates
Appendix C. Memory Tables
Appendix D. Memory Tables Answer Key
Book Details
Hardcover: 700 pages
Publisher: Cisco Press (July 2012)
Language: English
ISBN-10: 1587204460
ISBN-13: 978-1587204463
Download [97.3 MiB]