CMMI for Development, 3rd Edition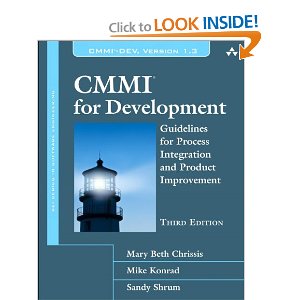 CMMI® for Development (CMMI-DEV) describes best practices for the development and maintenance of products and services across their lifecycle. By integrating essential bodies of knowledge, CMMI-DEV provides a single, comprehensive framework for organizations to assess their development and maintenance processes and improve performance. Already widely adopted throughout the world for disciplined, high-quality engineering, CMMI-DEV Version 1.3 now accommodates other modern approaches as well, including the use of Agile methods, Lean Six Sigma, and architecture-centric development.
CMMI® for Development, Third Edition, is the definitive reference for CMMI-DEV Version 1.3. The authors have revised their tips, hints, and cross-references, which appear in the margins of the book, to help you better understand, apply, and find information about the content of each process area. The book includes new and updated perspectives on CMMI-DEV in which people influential in the model's creation, development, and transition share brief but valuable insights. It also features four new case studies and five contributed essays with practical advice for adopting and using CMMI-DEV. This book is an essential resource–whether you are new to CMMI-DEV or are familiar with an earlier version–if you need to know about, evaluate, or put the latest version of the model into practice.
The book is divided into three parts.
Part One, "About CMMI," consists of seven chapters:
Chapter 1, "Introduction," offers a broad view of CMMI. It introduces you
to the concepts of process improvement and describes the benefits of CMMI, the history of models used for process improvement, and different process improvement approaches.
Chapter 2, "Process Area Components," describes all of the components of the CMMI process areas.
Chapter 3, "Process Institutionalization," describes the model components
that ensure that the implementation of processes is effective, repeatable, and lasting.
Chapter 4, "Relationships among Process Areas," provides insight into the meaning and interactions of the major CMMI components.
Chapter 5, "Tying It All Together," assembles the model components and process infrastructure into the representations and explains the concepts of maturity level and capability level.
Chapter 6, "Using CMMI Models," describes paths to adoption and use of CMMI for process improvement and benchmarking.
Chapter 7, "A CMMI Case Study: United Space Alliance, LLC," describes the real-life experiences of an organization as it prepared to adopt CMMI. This chapter may help you plan your own organization's adoption of CMMI.
Part Two, "The Process Areas," contains 25 sections, one for each of the CMMI process areas.3 To facilitate your referring to them, these chapters are organized alphabetically by process area acronym. Each chapter contains descriptions of goals, best practices, and examples.
Part Three, "The Appendices and Glossary," consists of four information resources:
Appendix A, "References," contains references you can use to locate documented sources of information such as reports, process-improvement models, industry standards, and books that are related to CMMI.
Appendix B, "Acronyms," defines the acronyms used in CMMI.
Appendix C, "CMMI Project Participants," contains a list of people and their organizations who participated in the CMMI project. That project developed the models on which this book is based.
The "Glossary" defines the terms used in CMMI.
Book Details
Hardcover: 688 pages
Publisher: Addison-Wesley Professional; 3rd Edition (March 2011)
Language: English
ISBN-10: 0321711505
ISBN-13: 978-0321711502
Download [4.0 MiB]