CMMI for Acquisition, 2nd Edition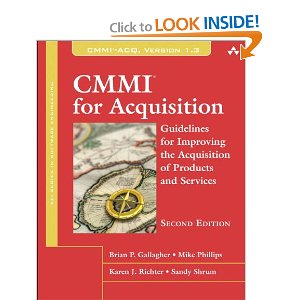 CMMI® for Acquisition (CMMI-ACQ) describes best practices for the successful acquisition of products and services. Providing a practical framework for improving acquisition processes, CMMI-ACQ addresses the growing trend in business and government for organizations to purchase or outsource required products and services as an alternative to in-house development or resource allocation. Changes in CMMI-ACQ Version 1.3 include improvements to high maturity process areas, improvements to the model architecture to simplify use of multiple models, and added guidance about using preferred suppliers.
CMMI® for Acquisition, Second Edition, is the definitive reference for CMMI-ACQ Version 1.3. In addition to the entire revised CMMI-ACQ model, the book includes updated tips, hints, cross-references, and other author notes to help you understand, apply, and quickly find information about the content of the acquisition process areas. The book now includes more than a dozen contributed essays to help guide the adoption and use of CMMI-ACQ in industry and government. Whether you are new to CMMI models or are already familiar with one or more of them, you will find this book an essential resource for managing your acquisition processes and improving your overall performance.
The book is divided into three parts.
Part One introduces CMMI-ACQ in the broad context of CMMI models, including essential concepts and useful background. It then describes and shows the relationships among all the components of the CMMI-ACQ process areas, and explains paths to the adoption and use of the model for process improvement and benchmarking. Several original essays share insights and real experiences with CMMI-ACQ in both industry and government environments.
Part Two first describes generic goals and generic practices, and then details the twenty-two CMMI-ACQ process areas, including specific goals, specific practices, and examples. These process areas are organized alphabetically and are tabbed by process area acronym to facilitate quick reference.
Part Three provides several useful resources, including sources of further information about CMMI and CMMI-ACQ, acronym definitions, a glossary of terms, and an index.
Book Details
Hardcover: 640 pages
Publisher: Addison-Wesley Professional; 2nd Edition (March 2011)
Language: English
ISBN-10: 9780321711519
ISBN-13: 978-0321711519
Download [3.9 MiB]