Cisco Unified Communications Manager 8: Expert Administration Cookbook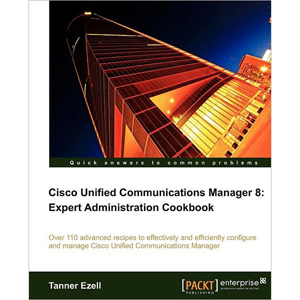 Cisco Unified Communications Manager (CUCM) is a software-based call-processing system developed by Cisco Systems. CUCM tracks all active VoIP network components; these include phones, gateways, conference bridges, transcoding resources, and voicemail boxes among others. This scalable, distributable, highly-available enterprise-class system delivers voice, video, mobility, and presence services. It connects up to 30,000 users of IP phones, media processing devices, VoIP gateways, mobile devices, and multimedia applications. With this cookbook you will learn all the important aspects of administering Cisco Unified Communications Manager.
Cisco Unified Communications Manager 8: Expert Administration Cookbook is filled with many advanced recipes to effectively and efficiently configure and manage Cisco Unified Communications Manager. This book covers everything an administrator needs during and after Cisco Unified Communications Manager implementation.
This practical cookbook contains detailed step-by-step instructions with clear and informative screenshots that cover all the important and advanced aspects of administering Cisco Unified Communications Manager.
The book starts with introducing Call Routing and E.164. It then covers configuration and design information for the various call admission control technologies and Media Resources. The book also dives deep into troubleshooting, upgrades, disaster recovery, user management and much more.
What you will learn from this book
Understand common utilities and tools for troubleshooting Unified Communications Manager, specifically on Real-Time Monitoring tool.
Learn synchronizing with LDAP using filters, setting credential policies, and managing user permissions.
Master advanced features such as cross cluster extension mobility, the intercompany media engine, call monitoring and recording, and much more.
Get step-by-step instructions for Upgrades and Disaster Recovery.
Get well-versed with the best practices for Secure Communications using Certificate Trust List, Certificate Authority Proxy Function, Digest Authentication, and much more.
Approach
This book is written in an easy-to-read style, with a strong emphasis on real-world, practical examples. Step-by-step explanations are provided for performing important administration tasks.
Who this book is for
If you are Cisco Unified Communications administrators or engineers looking forward for advanced recipes to perform important administration tasks, then this is the best guide for you. This book assumes familiarity with the basics of Cisco's Unified Communications Manager architecture.
Book Details
Paperback: 310 pages
Publisher: Packt Publishing (March 2012)
Language: English
ISBN-10: 1849684324
ISBN-13: 978-1849684323
Download [14.3 MiB]