Cisco Network Admission Control, Volume II: NAC Deployment and Troubleshooting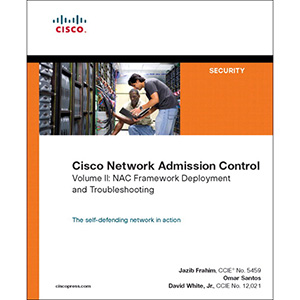 Cisco Network Admission Control, Volume II: NAC Framework Deployment and Troubleshooting
The self-defending network in action
When most information security professionals think about threats to their networks, they think about the threat of attackers from the outside. However, in recent years the number of computer security incidents occurring from trusted users within a company has equaled those occurring from external threats. The difference is, external threats are fairly well understood and almost all companies utilize tools and technology to protect against those threats. In contrast, the threats from internal trusted employees or partners are often overlooked and much more difficult to protect against.
Network Admission Control (NAC) is designed to prohibit or restrict access to the secured internal network from devices with a diminished security posture until they are patched or updated to meet the minimum corporate security requirements. A fundamental component of the Cisco® Self-Defending Network Initiative, NAC enables you to enforce host patch policies and to regulate network access permissions for noncompliant, vulnerable systems.
Cisco Network Admission Control, Volume II, helps you understand how to deploy the NAC Framework solution and ultimately build a self-defending network. The book focuses on the key components that make up the NAC Framework, showing how you can successfully deploy and troubleshoot each component and the overall solution. Emphasis is placed on real-world deployment scenarios, and the book walks you step by step through individual component configurations. Along the way, the authors call out best practices and tell you which mistakes to avoid. Component-level and solution-level troubleshooting techniques are also presented. Three full-deployment scenarios walk you through application of NAC in a small business, medium-sized organization, and large enterprise.
"To successfully deploy and troubleshoot the Cisco NAC solution requires thoughtful builds and design of NAC in branch, campus, and enterprise topologies. It requires a practical and methodical view towards building layered security and management with troubleshooting, auditing, and monitoring capabilities."
–Jayshree V. Ullal, Senior Vice President, Datacenter, Switching and Security Technology Group, Cisco Systems®
Jazib Frahim, CCIE® No. 5459, is a senior network security engineer in the Worldwide Security Services Practice of the Cisco Advanced Services for Network Security team. He is responsible for guiding customers in the design and implementation of their networks with a focus on network security.
Omar Santos is a senior network security engineer in the Worldwide Security Services Practice of the Cisco Advanced Services for Network Security team. He has more than 12 years of experience in secure data communications.
David White, Jr., CCIE No. 12,021, has more than 10 years of networking experience with a focus on network security. He is currently an escalation engineer in the Cisco TAC, where he has been for more than six years.
Effectively deploy the Cisco Trust Agent
Configure Layer 2 IP and Layer 2 802.1x NAC on network access devices
Examine packet flow in a Cisco IOS NAD when NAC is enabled, and configure Layer 3 NAC on the NAD
Monitor remote access VPN tunnels
Configure and troubleshoot NAC on the Cisco ASA and PIX security appliances
Install and configure Cisco Secure Access Control Server (ACS) for NAC
Install the Cisco Security Agent Manage-ment Center and create agent kits
Add antivirus policy servers to ACS for external antivirus posture validation
Understand and apply audit servers to your NAC solution
Use remediation servers to automatically patch end hosts to bring them in compliance with your network policies
Monitor the NAC solution using the Cisco Security Monitoring, Analysis, and Response System (MARS)
Book Details
Paperback: 624 pages
Publisher: Cisco Press (November 2006)
Language: English
ISBN-10: 1587052253
ISBN-13: 978-1587052255
Download [11.3 MiB]