pfSense 2 Cookbook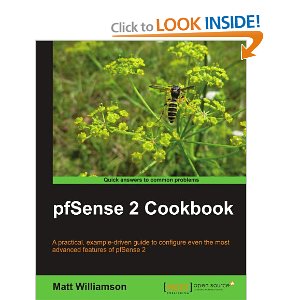 pfSense is an open source distribution of FreeBSD-based firewall that provides a platform for flexible and powerful routing and firewalling. The versatility of pfSense presents us with a wide array of configuration options, which makes determining requirements a little more difficult and a lot more important, compared to other offerings. Through this book you will see that pfSense offers numerous alternatives to fit any environment's security needs.
pfSense 2.0 Cookbook is the first and only book to explore all the features of pfSense, including those released in the latest 2.0 version. With the help of step-by-step instructions and detailed screenshots of the pfSense interface you will be able to configure every general and advanced feature from creating a firewall rule to configuring multi-WAN failover. Each recipe includes tips and offers advice on variations of the topic or references to other related recipes and additional information that can be found from other sources.
pfSense 2.0 Cookbook covers the gamut of available features and functionality. The first three chapters will take you from a non-existent system to a basic pfSense firewall. The next chapter focuses on configuring any number of the VPN services available, a very important and sought-after feature for anyone implementing a firewall. The following two chapters describe how to configure the most advanced features available in pfSense; features that may only be relevant to the most experienced network admins. Chapter 7 is dedicated to understanding and configuring the "grab-bag" of features that are available in pfSense, but are often stand-alone options and unrelated to each other. The first appendix explains how to use the status monitoring tools available for many of the features. The second appendix wraps up with helping you to decide how and where pfSense may be incorporated into your system and what type of hardware is required based on your throughput needs.
Over 70 simple but incredibly effective recipes for taking control of pfSense
What you will learn from this book :
Determine your deployment scenario, hardware/throughput/interface requirements, form-factor, and which platform version of pfSense is right for you
Secure remote access using the SSH and/or HTTPS protocols
Add, assign, and configure network interfaces
Configure essential networking services (such as DHCP, DNS, Dynamic DNS)
Create aliases, firewall rules, NAT port-forward rules, and rule schedules
Enable external Remote Desktop Access to an internal machine, following a complete example of the core pfSense functionality
Configure the PPTP, IPSec, L2TP, and/or OpenVPN services
Create virtual IPs, a virtual LAN, 1:1 and outbound NAT rules, gateways, static routes, and bridged interfaces
Configure traffic-shaping and Quality of Service (QoS)
Create multiple WAN interfaces in load-balanced or failover configurations
Configure firewall redundancy with a CARP firewall failover
Configure external logging with syslog
Use a variety of built-in networking tools such as Ping and traceroute
Configuration backup/restoration and automatic configuration-file backup
Update the pfSense firmware
Monitor and view all sorts of system and feature statuses/logs using RRD graphs and status monitoring tools
Approach
This book is written in a cookbook style. Each chapter consists of recipes, each of which is composed of step-by-step instructions to complete a particular task. Each recipe also includes tips, alternatives, and references to other recipes or appropriate external sources. The book can be explored chapter by chapter or in no particular order.
Who this book is written for
This book is intended for all levels of network administrators. If you are an advanced user of pfSense, then you can flip to a particular recipe and quickly accomplish the task at hand, while if you are new to pfSense, you can read chapter by chapter and learn all of the features of the system from the ground up.
Book Details
Paperback: 252 pages
Publisher: Packt Publishing (March 2011)
Language: English
ISBN-10: 1849514860
ISBN-13: 978-1849514866
Download [11.6 MiB]