Canon EOS 6D For Dummies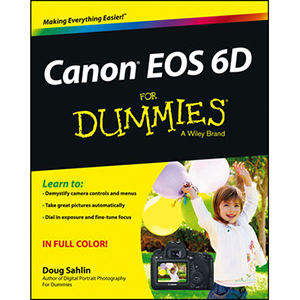 A full-color guide to everything your Canon EOS 6D can do, aimed at the first-time user
The Canon EOS 6D is a budget-priced full-frame camera that is very close to professional-level equipment. With this friendly guide by your side, you can make sure you get the most out of everything the Canon EOS 6D can do. Veteran author Doug Sahlin introduces the basic photo skills you need in order to get great shots from a DSLR camera while guiding you through the controls specific to the EOS 6D.
Explores the utilizing on-board controls, shooting in auto mode, and using live view and playback modes
Makes sense of dialing in exposure and lighting controls plus manipulating focus and color controls
Explains how to get photos onto a PC for editing
Addresses printing, posting online, and other ways to share images
Canon EOS 6D For Dummies gives you the full picture in a fun and easy-to-understand way so that you can better understand this powerful camera.
From the Back Cover
Learn to:
Demystify camera controls and menus
Take great pictures automatically
Dial in exposure and fine-tune focus
IN FULL COLOR!
Welcome to the world of dSLR!
Here's how to master your camera and capture great shots
Your Canon EOS 6D packs a lot of photography power into its body. This book helps you squeeze all the potential out of that technology! It's written to help you quickly understand how to get the most from your 6D. Learn the controls, understand image formats, experiment with settings, and fill your portfolio with great photos.
Meet your camera — review all the controls, learn how to select file format, and try out different settings
Go Live — experiment with Live View mode for both still pictures and movies
Get creative — explore the creative exposure modes and hone your understanding of aperture, ISO, depth of field, and shutter speed
Get real — learn how to get fantastic photos of fast-moving objects, wildlife, birds in flight, sunsets, landscapes, and portraits of people and pets
Get organized — download, organize, and edit your work to share with others
Open the book and find:
A tour of the Canon EOS 6D's controls
Advice on choosing the right shooting mode for your needs
What you'll find on the LCD monitor
Secrets of freezing action
All about metering modes
How to use the Multi-Controller
How to create custom picture styles
The effect of focal length on exposure
Book Details
Paperback: 384 pages
Publisher: For Dummies (March 2013)
Language: English
ISBN-10: 111853039X
ISBN-13: 978-1118530399
Download [106.3 MiB]