Building E-commerce Sites with Drupal Commerce Cookbook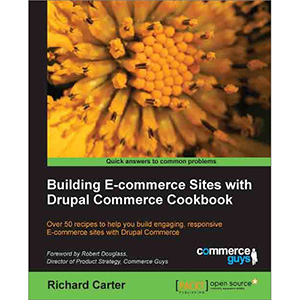 Get to grips with Drupal Commerce, the new ecommerce framework based on the Drupal CMS , one of the most popular and powerful open source content management systems available.
"Building E-commerce Sites with Drupal Commerce Cookbook" takes you through the installation, configuration, and customisation of your Drupal Commerce store. With clear, practical recipes with plenty of screenshots and tips this book will help you build attractive and profitable eCommerce sites.
This book starts by showing you how to install and configure your Drupal Commerce store. Once your shop is up and running, you'll then learn how to customise and optimise it to make it stand out and display your products better.
Going further into customisation, you will learn to add custom product types before creating a stylish new Drupal theme for your store. Packed with tips, this book will also help guide you through common problems, as well as optimising and managing your store on a day to day basis.
"Building E-commerce Sites with Drupal Commerce Cookbook" will guide you through everything you need to know to get your online store up and running and selling your products, with easy step-by-step guides and screenshots to help walk you through everything.
What you will learn from this book

Start selling on the web with Drupal Commerce
Improve your store's search engine friendliness
Customise the look and feel of your store
Streamline the way you manage your store with hints and tips for everyday management
Calculate the correct tax on your orders
Manage customer profiles to make both your life and your customers' lives easier
Create custom product types to allow files uploads, colour and size variations, and more
Includes end-to-end T-shirt shop tutorial and blueprint
Approach
"Building E-commerce Sites with Drupal Commerce Cookbook" is written in a helpful, practical style with numerous hands-on recipes to help you build attractive eCommerce sites.
Who this book is for
This book is primarily for store owners and web designers with little or no experience of Drupal and Drupal Commerce who want to build and customise a store in Drupal Commerce. You will have a basic knowledge of websites, but you don't need to be familiar with Drupal or PHP. However, this book would also suit experienced Drupal and Ubercart users who want to migrate to or build a Drupal Commerce store.
Book Details
Paperback: 206 pages
Publisher: Packt Publishing (June 2013)
Language: English
ISBN-10: 1782161228
ISBN-13: 978-1782161226
Download [24.6 MiB]