Best iPad Apps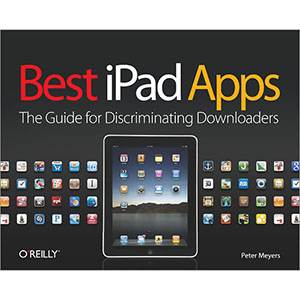 What really wows iPad fans is when their touchscreen does what's impossible on other gadgets: the finger-painting app that turns a cross-country flight into a moving art class, the mini music studio (two-dozen instruments strong, each with motion-induced warble effects), and the portable fireworks display that you sculpt by swiping.
Problem is, with tens of thousands of apps available for your iPad, who knows what to download? You can try to sort through a gazillion customer reviews with a mix of 5- and 1-star ratings, but that's a head-hurting time-waster. The stakes are getting higher, too: instead of freebies and 99-cent trinkets, the price of iPad apps is steadily creeping up and beyond their iPhone predecessors.
Best iPad Apps guides you to the hidden treasures in the App Store's crowded aisles. Author Peter Meyers stress-tested thousands of options to put together this irresistible, page-turner of a catalog. Inside these pages, you'll find apps as magical as the iPad itself.
Flip through the book for app suggestions, or head directly to one of several categories we've loaded up with "best of" selections to help you:
Get work done
Manipulate photos
Make movies
Create comics
Browse the Web better
Take notes
Outline ideas
Track your health
Explore the world
No matter how you use your iPad, Best iPad Apps will help you find the real gems among the rubble — so you make the most of your glossy gadget.
Book Details
Paperback: 240 pages
Publisher: O'Reilly Media (December 2010)
Language: English
ISBN-10: 1449392474
ISBN-13: 978-1449392475
Download [69.9 MiB]