LEGO Space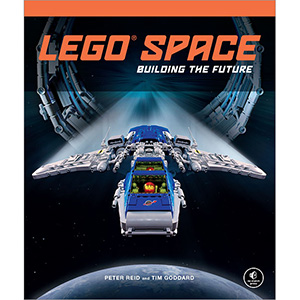 Come explore an incredible LEGO® universe in LEGO Space: Building the Future. Spaceships, orbital outposts, and new worlds come to life in this unique vision of the future, built completely from LEGO bricks.
A selection of step-by-step building instructions will have you constructing your own cosmic creations to play with at home. Marvel at interstellar battlecruisers, space pirates, charming robots, and other stunning builds from an amazing future!
About the Author
Peter Reid has been a fan of LEGO since childhood. He is a contributor to The LEGO Play Book, his work appeared in The LEGO Book, and he has attended design workshops with the LEGO Group in Billund. His incredible LEGO Exo Suit, featured in this book, has been chosen by LEGO for mass production in 2014, as LEGO CUUSOO #006, Exo Suit. He lives near London with his fiancee, Yvonne.
Tim Goddard is a contributor to the New York Times-bestselling The LEGO Ideas Book and The LEGO Play Book. He has also participated in product development with the LEGO Group. He works as a laboratory manager and lives with his wife, Sharon, in the UK.
Table of Contents
Chapter 1. The Space Age
Chapter 2. The Federation
Chapter 3. Ships of the Federation
Chapter 4. Inhospitable Climate Engineers
Chapter 5. New Frontiers
Chapter 6. Realm of Shadows
Chapter 7. Army of Darkness
Chapter 8. Star Justice
Chapter 9. Infiltration
Chapter 10. Across the Universe
Book Details
Hardcover: 216 pages
Publisher: No Starch Press (November 2013)
Language: English
ISBN-10: 1593275218
ISBN-13: 978-1593275211
Download [99.9 MiB]