Automating ActionScript Projects with Eclipse and Ant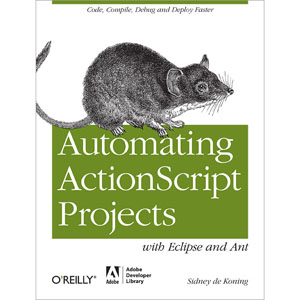 Automating repetitive programming tasks is easier than many Flash/AS3 developers think. With the Ant build tool, the Eclipse IDE, and this concise guide, you can set up your own "ultimate development machine" to code, compile, debug, and deploy projects faster. You'll also get started with versioning systems, such as Subversion and Git.
Create a consistent workflow for multiple machines, or even complete departments, with the help of extensive Ant code samples. If you want to work smarter and take your skills to a new level, this book will get you on the road to automation—with Ant.
Set up your Eclipse work environment with Eclipse plugins, including the FDT code editor and the Mylyn task manager
Enable several developers to work on the same project simultaneously with a versioning system
Walk through the basics of Ant, and use sample code to create your first script
Compile and debug your Ant build with FDT or the Flex SDK
Apply Ant to mobile development for both the Android Platform and iOS, using the Android SDK and Adobe Air
About the Author
Sidney de Koning is a full time geek. When he was 8, he got hooked on BASIC on his grandfather's Amiga 500. Now he still gets excited developing mobile applications and websites. His passion is to play with technologies like Adobe's AIR and the Android platform, and he loves to translate complex abstract ideas into concrete usable applications.
He started programming in Turbo Pascal and Delphi, and tried PHP, but later found his true love—Flash. Now Sidney is a Flash Platform developer with more than 10 years of experience in ActionScript (1, 2, and 3), AIR, and lately also Android. And a little iOS.
After setting up the online department at the Dutch MTV in 2005, he freelanced and worked for smaller companies until 2009. He has worked for and with a multitude of companies including MTV, TMF, Nickelodeon, Media Catalyst, and Code d'Azur. His current employment is at LBi Lost Boys in Amsterdam, where he develops in AS3, solves technical problems, and acts as technical lead. His specialties are streamlining development processes, AIR, and AIR for Android. In his spare time, he has written content for the Dutch Adobe User Group and taught programming classes at the international SAE College.
From writing articles on blogs to writing magazines and a book, and from teaching students programming to coding and talking about code, it all has to do with transferring knowledge and inspiring people who share the same passion: creation.
He likes to keep sane by meditating, reading, writing, and running. He also maintains a weblog about AIR, mobile, and Flash development at http://www.funky-monkey.nl.
Book Details
Paperback: 96 pages
Publisher: O'Reilly Media (October 2011)
Language: English
ISBN-10: 1449307736
ISBN-13: 978-1449307738
Download [7.5 MiB]