AutoCAD 2012 For Dummies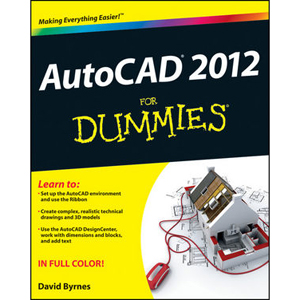 A full-color guide to the #1 architectural drafting program—AutoCAD 2012!
AutoCAD is the leading software used to create 2D and 3D technical drawings. Used by engineers, architects, and drafting professionals, it can be complex and is a perfect subject for the tried-and-true For Dummies format. Full-color illustrations make the instructions even easier to follow, because examples in the book appear exactly as they will on the screen.
Explains AutoCAD and gets readers quickly up to speed on the latest version
Features full-color illustrations that look the same as the AutoCAD 2012 screens, making the interface and the all-important Model view easier to understand
Covers all the new features, creating a basic layout, using AutoCAD DesignCenter, drawing and editing, working with dimensions, adding text, and more
Newcomers to AutoCAD will easily master the software with help from this full-color edition of AutoCAD 2012 For Dummies.
Table of Contents
Part I: AutoCAD 101.
Chapter 1: Introducing AutoCAD and AutoCAD LT.
Chapter 2: Le Tour de AutoCAD 2012.
Chapter 3: A Lap around the CAD Track.
Chapter 4: Setup for Success.
Chapter 5: Planning for Paper.
Part II: Let There Be Lines.
Chapter 6: Manage Your Properties
Chapter 7: Preciseliness Is Next to CADliness.
Chapter 8: Down the Straightaway.
Chapter 9: Dangerous Curves Ahead.
Chapter 10: Get a Grip on Object Selection.
Chapter 11: Edit for Credit.
Chapter 12: A Zoom with a View.
Part III: If Drawings Could Talk.
Chapter 13: Text with Character.
Chapter 14: Entering New Dimensions.
Chapter 15: Down the Hatch.
Chapter 16: The Plot Thickens.
Part IV: Advancing with AutoCAD.
Chapter 17: The ABCs of Blocks.
Chapter 18: Going Dynamic and External.
Chapter 19: Call the Parametrics!
Chapter 20: Drawing on the Internet.
Part V: On a 3D Spree.
Chapter 21: It's a 3D World After All.
Chapter 22: From Drawings . . . to Models.
Chapter 23: On a Render Bender.
Part VI: The Part of Tens.
Chapter 24: Ten Great AutoCAD Resources.
Chapter 25: Ten Differences between AutoCAD and AutoCAD LT.
Chapter 26: Ten System Variables to Make Your Life Easier.
Book Details
Paperback: 560 pages
Publisher: For Dummies (May 2011)
Language: English
ISBN-10: 1118024400
ISBN-13: 978-1118024409
Download [31.3 MiB]