Articulate Studio Cookbook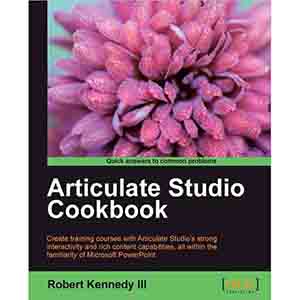 More and more companies find they need to build their training courses internally. They are turning to tools like Articulate Studio because it is easy to use and doesn't have a steep learning curve. If you are familiar with Microsoft PowerPoint in any way, you should feel right at home with Articulate Studio.
"Articulate Studio Cookbook" will get you ready to add Articulate Studio to your enterprise toolkit. This book gives you detailed yet simple steps to complete your training course. By following the clear steps in each chapter, you will gain an understanding of the software but also be able to complete specific tasks and common activities.
The good thing about this book is that you can start anywhere and get the information that you need for a specific activity. Cross-references are provided if there is a skill located elsewhere that you need to complete a task.
It can be frustrating to pick up a new piece of software and not know where to begin. With Articulate Studio, there is a whole suite of software to work with. You need to know how to work with Presenter, Engage, Quizmaker and Encoder to make great Articulate courses. Then, you'll need to know how to put them all together in a way that makes a professional looking, cohesive and smooth-flowing course. We'll make it easy to follow step by step until you have a professional course.
"Articulate Studio Cookbook" will help you go from Studio newbie to Studio guru. Dive in and choose your recipe.
What you will learn from this book
Create a flash-ready course using Presenter and edit your course player
Include Quizmaker in your courses to provide interaction and assessment
Record, edit and prepare full-motion video using Video Encoder
Creatively display interactive and rich content using Engage
Combine all of the apps in the Articulate suite for a cohesive and engaging course
Work with images and other multimedia to create a more visually appealing course
Easily and simply create course elements
Approach
The cookbook style is a series of practical recipes which represent solutions to problems and popular activities in a concise but detailed manner.
Who this book is written for
If you are a beginning developer or just someone who has been asked to be the jack-of-all-design in your training department, then this book is a great starter. Having a working knowledge of PowerPoint is helpful but not essential. By simply following the steps, you will be able to create a clean, professional looking course.
Book Details
Paperback: 292 pages
Publisher: Packt Publishing (November 2012)
Language: English
ISBN-10: 1849693080
ISBN-13: 978-1849693080
Download [36.1 MiB]