Arquillian Testing Guide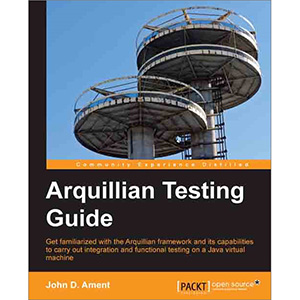 Integration testing sometimes involves writing complex codes. This book introduces you to the capabilities of Arquillian to enable you to write simple code with a broad range of integration tests for java applications.
Arquillian Testing Guide serves as an introductory book to writing simple codes for testing java applications. This book will help you to develop richer test cases which can be run automatically while performing rigorous testing of the software.
Arquillian Testing Guide introduces you to Arquillians features and capabilities. This book will help you understand the mechanism of creating deployments and test against those deployments. The book begins with basic JUnit test cases beginning with an enterprise test case, which then go on to discuss remote testing. During the course of the book, you will also learn how to mix container and non-container tests into a single test case. By the end of the book, you will have learned how to extend JUnit tests to work with Arquillian and deploy them to a container automatically.
What you will learn from this book
Develop automated tests using Arquillian and JUnit
Create tests using Selenium and then execute them paired with Arquillian Drone
Test using Arquillian Graphene to manipulate the DOM of your web applications
Learn how to use Arquillian and Spring to automatically wire an application context
Learn how to deploy your web services and test them automatically using Arquillian and soapUI
Approach
This book is a tutorial filled with plenty of code examples and strategies to give you many options when building your test structure.
Who this book is for
This book is for developers and testers alike. Anyone who has worked with test driven development or building automated test cases will find use in this book. A reader should be familiar with some automation strategies and techniques such as JUnit and should have some exposure to techniques such as mocking.
Book Details
Paperback: 242 pages
Publisher: Packt Publishing (April 2013)
Language: English
ISBN-10: 1782160701
ISBN-13: 978-1782160700
Download [2.9 MiB]