Architectural Design with SketchUp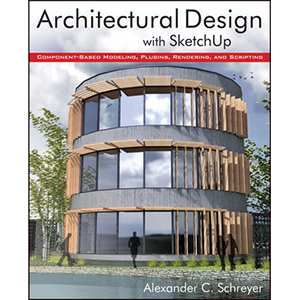 The one-stop guide to SketchUp for architects, designers, and builders
SketchUp is the tool of choice for architects, interior designers, and construction professionals. Though the basics are simple to understand, getting the most out of it requires deeper instruction and guidance. Architectural Design with Google SketchUp uses easy-to-understand tutorials to describe both common and advanced process, illustrated throughout with full-color renderings.
Handy sidebars throughout the book cover fundamentals and background information
End-of-chapter exercises help readers master new skills and techniques
A robust companion website includes helpful videos, sample files, and plug-ins
From the Back Cover
How to get spectacular results with the 3D-modeling app SketchUp
While it is easy to pick up the basic techniques of SketchUp, going beyond these essentials requires step-by-step instruction and practice. Architectural Design with SketchUp provides the knowledge needed to move past the basics and take full advantage of SketchUp as a powerful 3D modeling tool. After a SketchUp refresher, this user-friendly handbook covers component-based modeling for assembly, scheduling, collaborative design, and modeling with a BIM approach. It demonstrates the use of plugins for 3D modeling, fabrication, data integration, and analysis (energy efficiency, etc.), as well as rendering in SketchUp, enhancing with Photoshop, and combining with hand-drawn content. It also offers easy tutorials for creating complex geometry using Ruby coding.
Architectural Design with SketchUp includes:
Easy-to-follow tutorials that describe common or advanced processes and can either be used as presented or adapted?? easily to match your needs
Basic concepts and background information located in sidebars for easy reference
End-of-chapter exercises for self-led practice work or class assignments
Full-color illustrations throughout, demonstrating photorealistic renderings and tutorials
Access to a robust companion website containing videos, sample files, and plugins
SketchUp is the 3D-modeling tool of choice for architects, interior designers, and construction professionals. Architectural Design with SketchUp is the obvious choice for anyone who wants to make the most of this extremely useful tool.
Book Details
Paperback: 320 pages
Publisher: Wiley (November 2012)
Language: English
ISBN-10: 1118123093
ISBN-13: 978-1118123096
Download [40.4 MiB]