Alfresco 4 Enterprise Content Management Implementation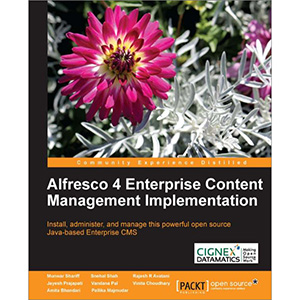 Alfresco 4 has improved a lot with its new and advanced concepts for content management. Users have been waiting for a book that covers these concepts along with security, dashboards, and the configuration features of Alfresco 4.
Alfresco 4 Enterprise Content Management Implementation is a well-crafted and easy-to-use book, and it is a complete guide to implementing enterprise content management for your business needs using Alfresco 4. It covers the enhanced document management, integration with standard productivity tools, and various integration options with proven external applications.
This book will take you through a number of clear, practical sections that will help you to make a proper decision for your business needs using standard practices with Alfresco's Document Management and various third-party integrations
You will learn how to install, administer, and manage your entire application. The concepts of mapping your business documents by extending content models and achieving your complex business process using Workflow models and business rules will be discussed in this book. Integration with various third party tools like MS Office, Mobile Application, Outlook, Liferay, Ephesoft, and Kofax will also be covered. You will learn to create your own custom workflow using Activiti BPMN 2.0 Process Designer and also maintain and administrate the entire application.
This book explains everything you need to know to manage your documents using standard processes and mechanisms.
What you will learn from this book
Work with users and membership accounts, including LDAP integration and single sign-on
Make content easy to find using search, tagging, content categorization, and metadata
Customize the user interface, create your own dashboard layouts, and present content in custom ways relevant to your business
Integrate external applications such as Liferay Portal, iPhone, Facebook, PDF and image viewer, Microsoft Outlook, Adobe Flex and Ffmpeg video transcoder
Set up a single instance multi-tenant system and High Availability, configure Alfresco as in-bound email server, and set up an audit trail
Learn the various options for Image and Forms Processing
Maintain and administrate all of the Alfresco systems
Use Alfresco 4 as a smart document repository; work with automatic version tracking and control, access the repository from the web, share network folders, FTP, Microsoft Office tools and Mobile Applications
Approach
This book distils the hands-on approach of the training courses into a concise, practical book. The emphasis is on getting up and running fast and discovering the scope and power of Alfresco 4 incrementally through practical examples. Though this book is not a developer guide, various examples in the book will help developers to extend Alfresco functionality and to integrate Alfresco with external systems.
Who this book is for
This book is designed for experienced users, business owners, or system administrators who want to install and use Alfresco in their teams or businesses. Because Alfresco is free, many teams can install and experiment with its ECM features without any upfront cost, often without management approval. You need to have a degree of technical confidence, but you do not require specialist system admin or developer skills to get a basic system up and running.
Though this book is not a developer guide, various examples in the book will help you to extend Alfresco functionality and to integrate Alfresco with external systems.
Book Details
Paperback: 514 pages
Publisher: Packt Publishing (July 2013)
Language: English
ISBN-10: 1782160027
ISBN-13: 978-1782160021
Download [27.2 MiB]