3D Game Programming for Kids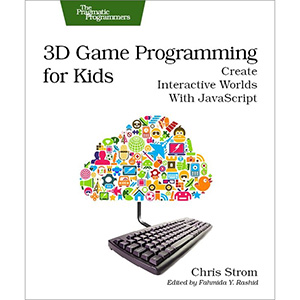 You'll jump right in and write games and simulations while learning programming fundamentals. You'll use the ICE Code Editor, which was created especially for this book to make it easy for you to get started with JavaScript programming. With the ICE Editor, you'll see the results of your work right away. Want a red donut? You can make hundreds of them, spinning around like crazy right next to the code you just typed.
You'll do hands-on coding in every chapter. You'll start by building simple animated shapes, then make your own player—who can do cartwheels! You'll learn how to build your own games from start to finish, including a monster eating fruit, a cave puzzle, and rafting on a river. You'll animate simple shapes to create a model of the solar system, and make your own website so that you can show off your games with your friends. If you just want to make games, jump to the lessons focusing on projects. To understand some of the theory better or if you need some help with functions, turn to the chapters that explain the programming concepts. We'll walk you carefully through all the math needed to bring games to life.
Best of all, you get to create awesome games and say, "I made this!"
What you need
You need the latest version of the Google Chrome Web browser, available for free from Google. You also need an Internet connection to access the ICE Code Editor the first time. ICE Code Editor will be loaded onto your computer, so you won't need Internet access for later projects.
Table of Contents
Chapter 1. Project: Creating Simple Shapes
Chapter 2. Playing with the Console and Finding What's Broken
Chapter 3. Project: Making an Avatar
Chapter 4. Project: Moving Avatars
Chapter 5. Functions: Use and Use Again
Chapter 6. Project: Moving Hands and Feet
Chapter 7. A Closer Look at JavaScript Fundamentals
Chapter 8. Project: Turning Our Avatar
Chapter 9. What's All That Other Code?
Chapter 10. Project: Collisions
Chapter 11. Project: Fruit Hunt
Chapter 12. Working with Lights and Materials
Chapter 13. Project: Build Your Own Solar System
Chapter 14. Project: Phases of the Moon
Chapter 15. Project: The Purple Fruit Monster Game
Chapter 16. Project: Tilt-a-Board
Chapter 17. Project: Learning about JavaScript Objects
Chapter 18. Project: Cave Puzzle
Chapter 19. Project: Multilevel Game
Chapter 20. Project: River Rafting
Chapter 21. Getting Code on the Web
Book Details
Paperback: 250 pages
Publisher: Pragmatic Bookshelf (October 2013)
Language: English
ISBN-10: 1937785440
ISBN-13: 978-1937785444
Download [17.7 MiB]