31 Days Before Your CompTIA A+ Exams, 2nd Edition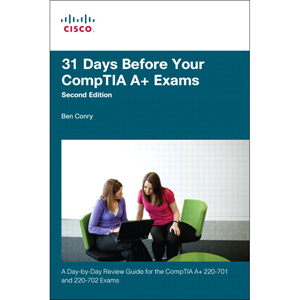 A Day-by-Day Review Guide for the CompTIA A+ 220-701 and 220-702 Exams
31 Days Before Your CompTIA® A+ Exams, Second Edition offers you a personable and practical way to understand the certification process, commit to taking the exam, and finish your preparation using a variety of study resources.
The 31-Day format breaks down key exam topics into 31 daily review sessions using short summaries, lists, tables, examples, and graphics. This edition includes a Study Resources section at the end of each day that provides you with a quick reference for locating more in-depth treatment of a day's topics within relevant textbook resources.
Use this day-by-day guide to organize, prepare, and review all the CompTIA A+ objectives for the CompTIA A+ Essentials exam (220-701) and the CompTIA A+ Practical Application exam (220-702).
The features of the book empower you to fit exam preparation into an otherwise busy schedule:
Tear-out visual calendar summarizes each day's study topics
Checklist highlights important tasks and deadlines leading up to your exam
Description of the CompTIA A+ exams and sign-up process
Strategies from the author help you to be mentally, organizationally, and physically prepared for exam day
Conversational tone makes your study time more enjoyable
Who Should Read This Book?
This book is for anyone preparing for the CompTIA A+ exams working with learning resources published by either Cisco Press, Que, Addison-Wesley, Cengage, or McGraw-Hill listed on page xxvii of this book.
Book Details
Paperback: 240 pages
Publisher: Cisco Press; 2nd Edition (September 2011)
Language: English
ISBN-10: 1587132605
ISBN-13: 978-1587132605
Download [6.2 MiB]