WordPress For Dummies, 3rd Edition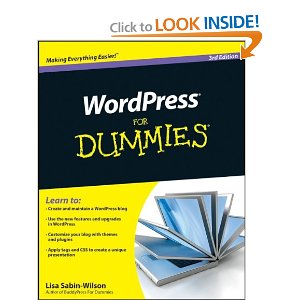 The bestselling guide to WordPress, fully updated for newest version of WordPress
WordPress, the popular, free blogging platform, has been updated with new features and improvements. Bloggers who are new to WordPress will learn to take full advantage of its flexibility and usability with the advice in this friendly guide.
Previous editions have sold nearly 50,000 copies, and interest in blogging continues to explode.
WordPress is a state-of-the-art blog platform that emphasizes aesthetics, Web standards, and usability
WordPress For Dummies, 3rd Edition covers both the free-hosted WordPress.com version and WordPress.org, which requires users to purchase Web hosting services
Written by an expert who works directly with the developers and cofounder of WordPress
Shows readers how to set up and maintain a blog with WordPress and how to use all the new features
Like its earlier editions, WordPress For Dummies, 3rd Edition helps bloggers quickly and easily take advantage of everything this popular blogging tool has to offer.
From the Back Cover
Get online fast and get the most out of the Web's most popular blogging toolUsed by millions, WordPress is the world's #1 blogging tool for a reason — it gives you the tools you need to customize your blog and make it truly one of a kind! Whether you're creating a new blog or you just want to get the most out of your current one, WordPress For Dummies, 3rd Edition, is the last word on WordPress.
Blogging basics — choose a platform, create an account, select a theme, configure your settings, publish your thoughts, interact with your followers, slam the door on spam, and archive your posts
Right here, write now — write, revise, and publish posts, and learn about links, tags, and creating categories
Make the most of your posts with media — edit and insert photos and quickly add and organize audio and video
Get interactive — easily insert polls and let readers rate your posts
Widgets & more — tap into text, RSS, and social media widgets, and get plugged in to plugins
Now you're stylin' — customize one of the many WordPress themes with new headers, backgrounds, fonts, and styles
WordPress.com vs. WordPress.org — let WordPress host your blog for free or link WordPress with your domain
Open the book and find:
How to set up a MySQL database
The anatomy of a template tag
Ways to enhance your blog with themes, polls, ratings, and widgets
How to manage multiple blogs and users
Tips for tackling spam with Akismet
Advice on optimizing for search engines
How to use WordPress as a content management system
Ways to style with CSS
Learn to:
Create and maintain a WordPress blog
Use the new features and upgrades in WordPress
Customize your blog with themes and plugins
Apply tags and CSS to create a unique presentation
Book Details
Paperback: 408 pages
Publisher: For Dummies; 3rd Edition (August, 2010)
Language: English
ISBN-10: 0470592745
ISBN-13: 978-0470592748
Download [7.9 MiB]