WordPress 24-Hour Trainer, 2nd Edition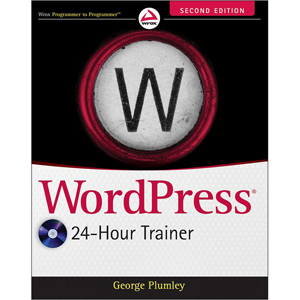 The eagerly anticipated second edition, completely updated for WordPress 3.1
As an open source content management system, WordPress allows users to easily build feature-rich web sites with no programming experience. This unique book-and-video package is a friendly, self-paced beginners guide to the latest release of WordPress. Lessons are focused on practical, everyday tasks that users will need to create and maintain their sites: entering new content, creating new pages, managing menus, making content search-engine friendly. Plus you'll find lots of tips based on years of experience teaching people to use WordPress.
You'll also learn how to extend the functionality of WordPress by using the thousands of plugins available. Connecting to social media, creating membership and e-commerce sites, setting up events calendars, making your site mobile-friendly—these are just some of the plugins you'll be introduced to. Each lesson in the book is supplemented by an instructional video intended to enhance your learning experience. Plus, a trouble-shooting appendix addresses various issues to help you solve any challenges you may face.
Lessons include:
Installing WordPress
Admin area overview
Basic admin settings
Adding a new post
Working with the text
Laying out text
Advanced post
The basics of handling media files
The upload/insert window
Image options in detail
Editing and laying out
Working with image galleries
Adding video and audio
Adding documents
Managing posts and pages
Managing media files
Managing post categories and
Managing widgets and
The links manager
Managing comments
Bringing in content from other sites
Helping others connect to your site
Having multiple site users
Overview of WordPress themes
Creating a child theme
Basic customization of your design
Optimizing your content
Optimizing your site as a whole
How is your site doing?
Keeping up to date
Backing up your site
Installing and activating plugins
Two example plugins
Other common uses for plugins
Running multiple sites with WordPress
Customizing WordPress
Troubleshooting WordPress
If learning the new WordPress is a pressing issue for you, then this book-and-video package is exactly what you need.
Note: As part of the print version of this title, video lessons are included on DVD. For e-book versions, video lessons can be accessed at wrox.com using a link provided in the interior of the e-book.
From the Back Cover
Learn to build, update, maintain, and expand a WordPress website
WordPress is an increasingly popular open-source content management system that exists in either a self-hosted or hosted version and allows you to build and maintain a feature-rich website. This unique book-and-video package serves as a friendly, self-paced learning experience on the capabilities and newest features of the self-hosted version of WordPress (though much of it also applies to the hosted version). Veteran author George Plumley teaches you how to customize and extend WordPress in a number of ways in order to make it do exactly what you need. The valuable lessons featured in the book focus on everyday tasks and are supplemented on the instructional video to enhance your learning experience.
WordPress 24-Hour Trainer, Second Edition:
Demonstrates how to enter new content, create new pages, and make content search-engine friendly
Details techniques for breaking up large amounts of text, writing a post, and creating a sub page
Explores plugins that help you connect your site to social media, make your site mobile friendly, and more
Addresses creating and managing menus and displaying links
Explains how to find files in the media library
Walks you through running multiple websites from a single installation
You'll learn to:
Plan what you need to do before starting your site
Install WordPress
Enter your content and publish it
Upload images, video, documents, and more
Navigate through various types of content
Deal with links, comments, RSS feeds, social networks, and multiple users
Work with themes
Optimize your site
Make sure your software is up to date
Add functionality with plugins
Book Details
Paperback: 408 pages
Publisher: Wrox; 2nd Edition (August 2011)
Language: English
ISBN-10: 1118066901
ISBN-13: 978-1118066904
Download [25.9 MiB]