Windows 8 For Dummies Quick Reference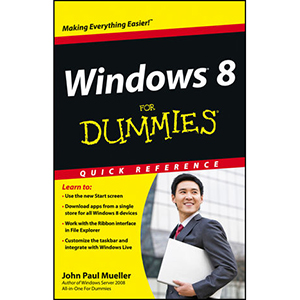 The handy and fast reference for mastering Windows 8
This quick and easy reference is designed for all users (newbies and seasoned) who are comfortable with the Windows OS  and need a fast reference to solve a problem or navigate a new feature without context or explanation.  It will be the must-have reference for anyone using Windows 8.
Offers quick answers and solutions so readers can read less and do more
Includes new elements such as Control Panel guide, icon glossary, shortcuts and other tools users can leverage to move quickly and efficiently though Windows 8
Get the completely updated and overhauled edition of this bestselling book with a newly refreshed easy-to-use format.
From the Back Cover
Quick, up-to-date answers about using the web, the interface, apps, and peripherals
Windows 8 is all new, designed to work equally well on desktops or touchscreen tablets. If you're familiar with earlier versions or new to Windows, this streamlined guide will help you master your everyday tasks. Discover the steps for moving between the new and traditional interfaces, accessing the Control Panel, securing your data, doing routine maintenance, and more.
Getting started — conquer the new Start screen, find the Desktop, and access and work with the interface you prefer
Apps and Gadgets — use built-in apps, locate your Windows 7 apps, handle compatibility issues, and take shortcuts with Gadgets
Safety first — configure your system and the enhanced Internet Explorer browser to take advantage of new safety features
Connect devices — set up Windows 8 to interact with printers, scanners, and cameras
About the network — create a network connection, join a workgroup, access remote resources, and configure a firewall
Open the book and find:
An overview of what you see and what you can do
Why you need a Windows Live account
How to place a Start menu on the Desktop
A list of keyboard shortcuts
Steps for configuring old applications for Windows 8
Help with personalizing your system
Tips on performing administrative tasks
A glossary of terms you'll encounter
Learn to:
Use the new Start screen
Download apps from a single store for all Windows 8 devices
Work with the Ribbon interface in File Explorer
Customize the taskbar and integrate with Windows Live
Book Details
Paperback: 264 pages
Publisher: For Dummies (November 2012)
Language: English
ISBN-10: 1118132432
ISBN-13: 978-1118132432
Download [25.0 MiB]