VMware View Security Essentials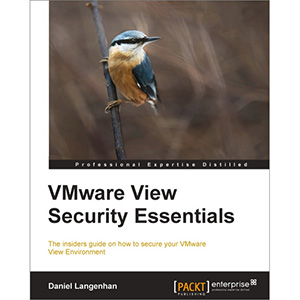 Most people associate security with network security and focus on firewalls and network monitoring. However, there is more to security than that. Security starts with the establishment of a stable environment, protecting this environment not only from intrusion, but also from malicious intent. It is about tracking the issue and recovering from it. These elements of security are what this book aims to address.
VMware View Security Essentials addresses the topic of security in the corporate environment in a new way. It starts with the underlying virtual infrastructure and then delves into securing your base, your connection, and your client. This is not only a "how-to" book, but is also a book that explains the background and the insights of View security for the experienced professional's desktop virtualization.
This book takes you through the four major View security areas. Each area deals with all the aspects of security and explains the background as well as laying out simple-to-follow recipes to implement a higher security standard.
We start at the Virtualization base and work our way through the various View server types. We will then dive into the problems and issues of securing a connection before we address the security of the desktop itself. We conclude with a look into the backing up of our View installation and preparing for disaster recovery.
What you will learn from this book
Create, use, and install SSL certificates
Acquire a new skill set in troubleshooting security issues
Learn about secure tunnelling your desktop connection with RDP and PCoIP
Understand the concepts of pairing View security and transfer severs with View connection servers
Understand the key aspects of blocking undesirable USB devices
Approach
A practical and fast-paced guide that gives you all the information you need to secure your virtual environment.
Who this book is written for
This book is a "how-to" for the novice, a "reference guide" for the advanced user, and a "go to" for the experienced user in all the aspects of VMware View desktop virtualization security.
Book Details
Paperback: 130 pages
Publisher: Packt Publishing (July 2013)
Language: English
ISBN-10: 1782170081
ISBN-13: 978-1782170082
Download [14.5 MiB]