Vaadin 7 UI Design By Example: Beginner's Guide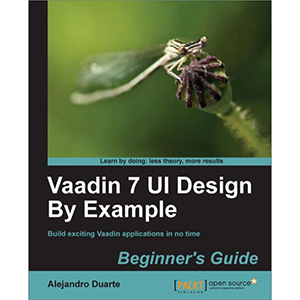 Vaadin is a mature, open-source, and powerful Java framework used to build modern web applications in plain Java. Vaadin brings back the fun of programming UI interfaces to the web universe. No HTML, no CSS, no JavaScript, no XML. Vaadin lets you implement web user interfaces using an object oriented model, similar to desktop technologies such as Swing and AWT.
Vaadin 7 UI Design By Example: Beginner's Guide is an engaging guide that will teach you how to develop web applications in minutes. With this book, you will Develop useful applications and learn basics of Java web development. By the end of the book you will be able to build Java web applications that look fantastic.
The book begins with simple examples using the most common Vaadin UI components and quickly move towards more complex applications as components are introduced chapter-by-chapter.
Vaadin 7 UI Design By Example: Beginner's Guide shows you how to use Eclipse, Netbeans, and Maven to create Vaadin projects. It then demonstrates how to use labels, text fields, buttons, and other input components. Once you get a grasp of the basic usage of Vaadin, the book explains Vaadin theory to prepare you for the rest of the trip that will enhance your knowledge of Vaadin UI components and customization techniques.
What you will learn from this book
Create Vaadin applications using Eclipse, Netbeans, and Maven
Use input components such as text fields, buttons, combo boxes, check boxes, and more
Use layouts, panels, and windows to arrange UI components
Incorporate navigation capabilities to Vaadin applications
Use tables and trees to present complex data
Use advanced components such as progress indicators, context menus, sliders, and drag-and-drop capabilities
Include custom HTML, Flash, and other web content in Vaadin applications
Customize UI components by using CSS
Develop your own components
Approach
This book is a hands-on Beginner's Guide for developers who are new to Vaadin and/or Vaadin UI components. The book will teach readers through examples to use each of the exciting components to build and add various aspects of the user interface to their web apps.
Who this book is written for
If you have experience with the Java language and want to create web applications that look good without having to deal with HTML, XML, and JavaScript, this book is for you. Basic Java programming skills are required, but no web development knowledge is needed at all.
Book Details
Paperback: 246 pages
Publisher: Packt Publishing (July 2013)
Language: English
ISBN-10: 1782162267
ISBN-13: 978-1782162261
Download [9.5 MiB]