Usable Usability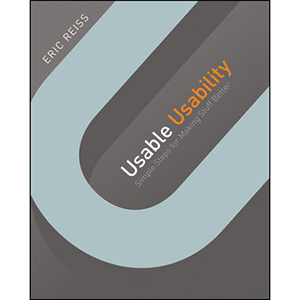 The A-to-Z guide to spotting and fixing usability problems
Frustrated by pop-ups? Forms that make you start over if you miss a field? Nonsensical error messages? You're not alone! This book helps you simply get it right the first time (or fix what's broken). Boasting a full-color interior packed with design and layout examples, this book teaches you how to understand a user's needs, divulges techniques for exceeding a user's expectations, and provides a host of hard won advice for improving the overall quality of a user's experience. World-renowned user-experience expert Eric Reiss shares his knowledge from decades of experience making products useable for everyone…all in an engaging, easy-to-apply manner.
Reveals proven tools that simply make products better, from the users' perspective
Provides simple guidelines and checklists to help you evaluate and improve your own products
Zeroes in on essential elements to consider when planning a product, such as its functionality and responsiveness, whether or not it is ergonomic, making it foolproof, and more
Addresses considerations for product clarity, including its visibility, understandability, logicalness, consistency, and predictability
Usable Usability walks you through numerous techniques that will help ensure happy customers and successful products!

From the Back Cover
I stopped reading because I was tempted to steal stuff for my next book!"
—Steve Krug, author of Don't Make Me Think
If you're serious about creating great user experiences, this is a must-read book! Eric's insights on usability are reinforced with delightful examples and are presented with a business-smart perspective that few others can match."
—Richard Dalton, Senior Manager, Experience Strategy & Measurement, The Vanguard Group
"I just want it to work!"
That's what "usability" means to the user. It's about whether a product or service does what the user wants—and expects—it to do. And that's what makes people want—or not want—what you have to sell. This book is packed with suggestions, steps, and guidelines to help you create products and services that do what users want. Many of them are unbelievably simple. They just work.
How to create usable stuff
Have clear goals for what you want to accomplish
Use the checklists in each chapter to help you spot potential problems
Learn what makes users happy—or not happy
Discover three keys to responsiveness
Put logical reasoning to work for you
Improve profitability by improving usability
Book Details
Paperback: 256 pages
Publisher: Wiley (July 2012)
Language: English
ISBN-10: 1118185471
ISBN-13: 978-1118185476
Download [15.5 MiB]