The Essential Guide to Telecommunications, 5th Edition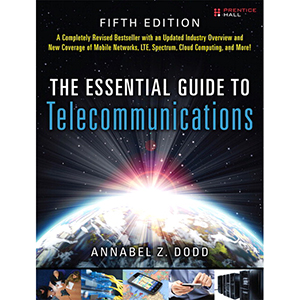 A Completely Revised Bestseller with an Updated Industry Overview and New Coverage of Mobile Networks, LTE, Spectrum, Cloud Computing, and More!
The #1 Telecom Guide for Businesspeople and Nontechnical Professionals, Fully Updated for Cloud Services, Social Media, and Advanced Mobile Networks
Completely updated for the newest trends and technologies, The Essential Guide to Telecommunications, Fifth Edition, is the world's top-selling nontechnical guide to today's fast-changing telecommunications industry. More than 170,000 copies of previous editions are in print, and this indispensible resource has been translated into nine languages.
Writing in plain language, Dodd demystifies today's most significant technologies, standards, and architectures. She introduces the industry-leading providers worldwide, explains where they fit in a fast-changing marketplace, and presents their key strategies. Coverage includes
Assessing the massive business and technical implications of the cloud computing revolution
How traffic from ubiquitous tools like Skype, Facebook, and smartphones are transforming networks
Understanding recent radical changes in data centers
How mobile carriers are balancing performance and cost in timing 4G upgrades
How new concerns about regulation, security, and privacy are reshaping the industry
This indispensable guide provides everything you need to know about telecommunications now—whether you're a salesperson, marketer, investor, or customer.
Review
Praise for The Essential Guide to Telecommunications
"Dodd's The Essential Guide to Telecommunications provides the history and context that make a fundamental underpinning of modern business more accessible to technologists and businesspeople alike. This new edition of her primer is an essential reference in the continuously evolving communications landscape."
—Tom Hopcroft, President and CEO, Mass Technology Leadership Council
"Annabel Dodd has created a mainstay resource in The Essential Guide to Telecommunications. All editions have been written in such a way that nonengineers and engineers alike will benefit from reading. She does the BEST job that I have seen in assimilating all of the changes that are constantly occurring in the telecommunications industry, both technical and regulatory, into one text. When I walk through telecommunications offices, I always see various editions of her book on multiple shelves. If you want one book that provides a concise and encompassing view of telecommunications, THIS is it!"
—Ronny Puckett, Southwest Region Director, National Exchange Carrier Association
"I have used previous editions of The Essential Guide to Telecommunications for some time in my introductory courses in our Information and Telecommunications Systems degree program. As this is a stand-alone IT degree program, we need a textbook with broad coverage of technical, management, and regulatory/policy topics. The Essential Guide to Telecommunications provides that coverage in an accessible and accurate manner. It is one of a very small number of books that I have been comfortable using as a required text in my courses."
—Hans Kruse, Professor of Information and Telecommunications Systems, Ohio University
"Like many words in our 'high-tech,' 'hard sell,' 'order now' society today, the word 'essential' becomes worn and overused. However, in the case of Annabel Dodd's The Essential Guide to Telecommunications, there is no other word that describes the impact and critical importance of this definitive work. For everyone from laymen in IT and new technologists to experienced network and telecom engineers, this book is a must-have, and therefore essential."
—Bob Warren, IT Infrastructure Analyst, Parsons
"The Essential Guide to Telecommunications is probably one of the most useful and well-written books on our telecom bookshelf. Annabel Z. Dodd does a great job of capturing a snapshot of the current telecom industry. Even those with little or no technical training should be able to understand the text. This is the perfect book for salespeople who want to learn more about the products and services they are selling, or for those who just want to keep up to date on the latest in telecom technology."
—William Van Hefner, President, Vantek Communications, Inc.
"The Essential Guide to Telecommunications is a fine guide to the field, readable by anyone, useful to everyone. As a first guide to the field, as a reference, and as a commentary on the history and strategy of telecommunications, it is simply superb."
—Andrew Allentuck, Columnist, Financial Post, Toronto
"Ms. Dodd continues to provide an excellent and thorough text on the telecommunications industry. As in her previous editions, she presents a good balance of technical and business-related information that is readily understandable by anyone with an interest in this key component of today's business environment. In her new edition, she has captured many of the recent changes in this dynamic field, which will affect every company in the years ahead. I strongly recommend her book to anyone who wants a better understanding of telecommunications."
—Joe McGrath, SVP, Information Technologies, Sunovion Pharmaceuticals, Inc.
"Dodd's work has been very helpful in the past in taking complex technical topics and translating them into actionable business items for my MBA students. Her book doesn't gloss over the details, but rather explains why they are important in the twenty-first century information age."
—Andrew Urbaczewski, Ph.D., Chair, Department of Management Studies, Associate Professor of MIS, College of Business, University of Michigan—Dearborn
Table of Contents
Part I: Enabling Technologies, Data Centers, and VoIP PBXs
Chapter 1. Computing and Enabling Technologies
Chapter 2. Data Centers and IP Private Branch Exchanges
Part II: Industry Overview
Chapter 3. Competition, Industry Structures, and Regulations
Part III: Wide Area Networks and the Internet
Chapter 4. Carrier Networks
Chapter 5. Broadband and Wide Area Network Services
Chapter 6. The Internet
Part IV: Mobile Networks and Mobile Carriers Worldwide
Chapter 7. Mobile and Wi-Fi Networks
Chapter 8. Mobile Carriers Worldwide
Book Details
Paperback: 528 pages
Publisher: Prentice Hall; 5th Edition (June 2012)
Language: English
ISBN-10: 0137058918
ISBN-13: 978-0137058914
Download [39.8 MiB]