Technical Blogging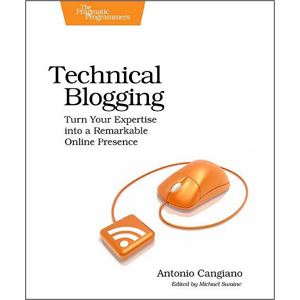 Become more influential and earn extra money by blogging. Whether you want to create a popular technical blog from scratch or take your blog to the next level, this book shows you how.
Technical blogging expert Antonio Cangiano shares his extensive expertise with you, sparing no details and laying out a complete step by step road map to help you plan, create, market, monetize, and grow your own popular blog.
Antonio will guide you through all the choices you have to make in setting up a successful blog, teach you the key things you need to know to write blog posts that get read, and give you the tools to produce content regularly.
You'll learn how to promote your blog, understand traffic statistics, and build a community. And once you've built it, you'll learn how to benefit from it: advance your career, make money from your blog, use it to promote your products or company, and take advantage of your blog to the fullest. And when your blog takes off, Antonio will show you how to avoid the pitfalls of success.
Technical Blogging is the only guide you'll need to create and maintain a successful technical blog.
Table of Contents
Part I: Plan It
Chapter 1. What Kind of Blog Are You Going to Run?
Chapter 2. A Rock-Solid Plan for Your Blog
Part II: Build It
Chapter 3. Setting Up Your Blog
Chapter 4. Customizing and Fine-Tuning Your Blog
Chapter 5. Creating Remarkable Content
Chapter 6. Producing Content Regularly
Part III: Promote It
Chapter 7. Promoting Your Blog
Chapter 8. Understanding Traffic Statistics
Chapter 9. Building a Community Around Your Blog
Part IV: Benefit from It
Chapter 10. Making Money from Your Blog
Chapter 11. Promoting Your Own Business
Chapter 12. Taking Full Advantage of Your Blog
Part V: Scale It
Chapter 13. Scaling Your Blogging Activities
Chapter 14. Beyond Blogging: Your Strategy for Social Media
Chapter 15. Final Words of Advice
Book Details
Paperback: 250 pages
Publisher: Pragmatic Bookshelf (March 2012)
Language: English
ISBN-10: 1934356883
ISBN-13: 978-1934356883
Download [9.1 MiB]