Take Control of Messages in Mountain Lion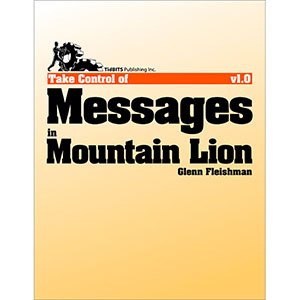 With this ebook in hand, you'll discover:
What is difference between SMS, instant messaging, and iMessage – plus why you'd care.
How to convert your iChat experience to the brave new world of Messages.
Why it is that Messages lets you communicate via accounts at five different services (plus Bonjour), and how to figure out which you should use.
In an iMessage account, how to configure which email address(es) and iPhone phone number(s) should receive messages on your Mac.
How to use Google Talk with Google two-factor authentication.
How to send messages – and set your online status – with an eye to etiquette and conventions.
What an instant-message buddy is, why it's awkward that iMessage doesn't have buddies, and how to add buddies, organize buddies, and even delete or block a buddy.
How to exchange photos, videos, business documents, and other files via Messages.
The best way to add a spoken conversation or video to a chat, whether through an iMessage/FaceTime chat or an instant-messaging service.
How to view and control the Mac screen of the person you're chatting with (or vice-versa).
About the Author
Glenn Fleishman is a technology journalist based in Seattle, where he lives with his wife and two sons, both of whom are adept at accidentally pressing the Power button on his laptop. He's a contributing editor at TidBITS, responsible for much of their Web and publishing infrastructure; a columnist for the Seattle Times on all things Mac related; and a regular contributor to the Economist, Macworld, and Ars Technica. He appears regularly on his local public radio station, KUOW.
Book Details
Paperback: 113 pages
Publisher: TidBITS Publishing, Inc. (November 2012)
Language: English
ISBN-10: 1615424148
ISBN-13: 978-1615424146
Download [4.6 MiB]