Software Testing using Visual Studio 2012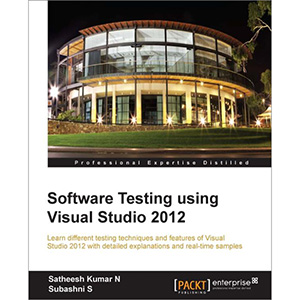 Testing is one of the main phases in the software development lifecycle. Managing the test scenarios, test cases, defects, and linking each one of these is bit of a challenge without using any tools. For frequently changing businesses, it is essential to address testing requirements by matching the pace of the business. This can only be achieved through automation of the possible testing scenarios to reduce the turnaround time of testing.
Software Testing Using Visual Studio 2012 is a practical, hands-on guide that provides a number of clear, step-by-step exercises, which will help you to take advantage of the new features and real power of Visual Studio 2012.
Software Testing Using Visual Studio 2012 starts with the basics of testing types and managing the tests using Test Explorer and a few other tools. Practical examples are added to help you understand the usage of various tools and features in a better way. Software Testing Using Visual Studio 2012 is written from a developer point of view and helps you take advantage of the unit testing features and customize the tests by generating the code and fine-tuning it as per your needs. The Test Manager is a standalone tool which is part of the Visual Studio tools family and takes care of test management. Software Testing Using Visual Studio 201 covers the usage of the test plan, test suite, manual testing, and exploratory testing using Test Manger and managing these aspects using these tools.
Software Testing Using Visual Studio 2012 also covers the recording of user actions and creating automated tests out of it. This book covers generating and adding parameters to the recording and replacing it at runtime, adding validation and extraction rules to the tests, running the tests using command line commands, looking at the details of test results, and configuring the running the load test out of web performance or unit tests.
This book helps you to understand the complete testing features and how to make use of automation features as well. It will appeal to both developers and testers.
What you will learn from this book
Discover different testing types as part of Visual Studio 2012
Use the test plan, test suite, manual testing ,and exploratory testing
Record user interface actions and generating code out of it to customize the test
Get to grips with unit testing features and data-driven unit tests to automate the tests for multiple scenarios
Add extraction rules, validation rules, and custom rules to the recorded requests and add parameters to the requests
Create and configure load tests with the help of a web performance test or unit test
Analyze the detailed view of test results
Execute the existing tests at the command line using the MSTest command line utility
Report on the test results and publish the test results
Approach
We will be setting up a sample test scenario, then we'll walk through the features available to deploy tests.
Who this book is for
This book is for developers and testers who want to get to grips with Visual Studio 2012 and Test Manager for all testing activities and managing tests and results in Team Foundation Server. It requires a minimal understanding of testing practices and the software development life cycle; also, some coding skills would help in customizing and updating the code generated from the web UI testing.
Book Details
Paperback: 444 pages
Publisher: Packt Publishing (July 2013)
Language: English
ISBN-10: 1849689547
ISBN-13: 978-1849689540
Download [57.7 MiB]