Software Receiver Design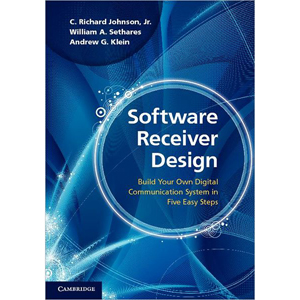 Have you ever wanted to know how modern digital communications systems work? Find out with this step-by-step guide to building a complete digital radio that includes every element of a typical, real-world communication system. Chapter by chapter, you will create a MATLAB realization of the various pieces of the system, exploring the key ideas along the way, as well as analyzing and assessing the performance of each component. Then, in the final chapters, you will discover how all the parts fit together and interact as you build the complete receiver. In addition to coverage of crucial issues, such as timing, carrier recovery and equalization, the text contains over 400 practical exercises, providing invaluable preparation for industry, where wireless communications and software radio are becoming increasingly important. A variety of extra resources are also provided online, including lecture slides and a solutions manual for instructors.
About the Author
C. Richard Johnson, Jr is the Geoffrey S. M. Hedrick Senior Professor of Engineering at Cornell University, where he has been on the faculty since 1981. He is a Fellow of the IEEE and co-author of Telecommunication Breakdown (2004, with William A. Sethares) and Theory and Design of Adaptive Filters (2001).
William A. Sethares is a Professor in the Department of Electrical and Computer Engineering at the University of Wisconsin, Madison. He is the author of Rhythm and Transforms (2007) and Tuning, Timbre, Spectrum, Scale (2005).
Andrew G. Klein is an Assistant Professor at Worcester Polytechnic Institute. In addition to working in academia, he has also held industry positions at several wireless start-up companies.
Book Details
Hardcover: 480 pages
Publisher: Cambridge University Press (October 2011)
Language: English
ISBN-10: 1107007526
ISBN-13: 978-1107007529
Download [6.4 MiB]