Smashing WordPress, 2nd Edition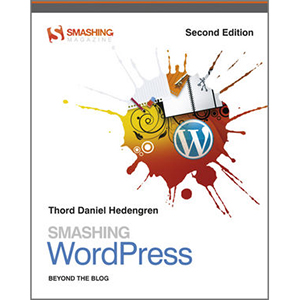 Smashing WordPress shows you how to utilize the power of the WordPress platform, and provides a creative spark to help you build WordPress-powered sites that go beyond the obvious. The second edition of Smashing WordPress has been updated for WordPress 3.1+, which includes internal, custom post types, the admin bar, and lots of other useful new features. You will learn the core concepts used to post types, the admin bar, and lots of other useful new features. You will learn the core concepts used to build just about anything in WordPress, resulting in fast deployments and greater design flexibility.Inside, WordPress expert Thord Daniel Hedengren takes you beyond d the blog and shows you how WordPress can serve as a CMS, a photo gallery, and e-commerce site, and more. This edition includes new and upgraded examples of cool WordPress usage.
You Will Learn How To:
Build Beautiful WordPress Themes, including Child Themes
Create Custom Login Forms and Admin Themes
Use the Loop to Control Content
Build Plugins, including Widget Functionality
Use Custom Post Types and Custom Taxonomies
Use Post Formats
Integrate WordPress with the Social Web
Use Conditional Control Elements
Integrate Theme Options
Build Your WordPress Projects for SEO
Thord Daniel Hedengren is a professional web designer and developer who has created numerous WordPress themes, developed plugins, and put WordPress to good use powering both blogs and big editorial sites. He is the former editor of the Blog Herald, a popular website for bloggers and WordPress users.
Vistit www.wiley.com/go/smashingwordpress2e to download the code examples.
Smashing Magazine (smashingmgazine.com) is one of the world's most popular Web-design online magazine. True to the Smashing Magazine book series delivers useful and innovative information to Web designers and developers.
Table of Contents
PART I: GETTING STARTED WITH WORDPRESS
Chapter 1. Anatomy of a WordPress Install
Chapter 2. The WordPress Syntax
Chapter 3. The Loop
PART II: DESIGNING AND DEVELOPING WORDPRESS THEMES
Chapter 4. WordPress Theme Essentials
Chapter 5. The Child Theme Concept
Chapter 6. Advanced Theme Usage
PART III: USING PLUGINS WITH WORDPRESS
Chapter 7. Anatomy of a WordPress Plugin
Chapter 8. Plugins or functions.php
Chapter 9. Essential WordPress Plugins
PART IV: ADDITIONAL FEATURES AND FUNCTIONALITY
Chapter 10. WordPress as a CMS
Chapter 11. Integrating the Social Web
Chapter 12. Design Trickery
Chapter 13. Fun with Images
Chapter 14. Extra Functionality
Chapter 15. Uncommon WordPress Usage.
Book Details
Paperback: 350 pages
Publisher: Wiley; 2nd Edition (June 2011)
Language: English
ISBN-10: 1119995965
ISBN-13: 978-1119995968
Download [8.5 MiB]