SharePoint 2010 Workflows in Action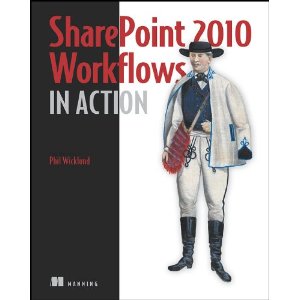 SharePoint 2010 is a huge technology with tens of thousands of companies adopting it from all across the globe. Within the SharePoint product stack, workflows are one of the most compelling and ROI generating features for many business.
SharePoint 2010 Workflows in Action will take you through the SharePoint workflow fundamentals, and all the way to very advanced topics to help you meet your most complex workflow requirements. This includes covering topics such as the out of box workflows, and building custom workflows with SharePoint Designer 2010, Office Visio 2010, and Visual Studio 2010.
Additionally, the book covers topics that are very important to workflow such as building forms with InfoPath 2010, building custom task processes, building custom activities and conditions, and how to leverage external data sources in your workflows via Business Connectivity Services. Other goodies include building State Machine workflows, leveraging ASP.NET forms, workflow event handlers, and publishing custom actions and conditions into SharePoint Designer. The book is a one stop shop workflow resource for anyone building workflows for the SharePoint 2010 platform.
What's Inside
Out-of-the-box and custom workflows
How to integrate external data
Advanced forms with InfoPath and ASP.NET
External events with pluggable workflow services
Custom workflow actions and conditions
Model your business process in Visio
About the Author
As a SharePoint consultant and trainer for RBA Consulting, Phil Wicklund has implemented countless workflows. He is a frequent speaker at SharePoint conferences and he blogs at www.philwicklund.com.
Book Details
Paperback: 400 pages
Publisher: Manning Publications (February, 2011)
Language: English
ISBN-10: 1935182714
ISBN-13: 978-1935182719
Download [14.2 MiB]