RavenDB 2.x: Beginner's Guide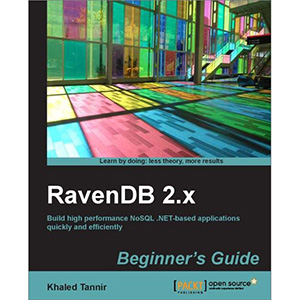 RavenDB is a second generation document database written in .NET, offering a flexible data model designed to address requirements coming from real-world systems. It is different from the other document databases around, as with RavenDB you can get up and running in a few minutes, and that includes grasping all the basics. It allows you to build high-performance, low-latency applications with ease and efficiency.
RavenDB 2.x Beginner's Guide introduces RavenDB concepts and teaches you everything, right from installing RavenDB, to creating documents, and querying indexes. This book will help you take advantage of powerful, document-oriented NoSQL databases and build a solid foundation on which you can create your .NET applications.
This book presents RavenDB, the .NET document-oriented NoSQL database, through a series of clear and practical exercises that will help you to take advantage of this database server.
The book starts off with an introduction to RavenDB and its Management Studio. You will then move ahead and learn how to quickly and efficiently build high performance, NoSQL document-oriented .NET applications using the .NET client API or the HTTP REST API. Next, Dynamic and static indexes that use map/reduce to process datasets are covered. You will then see how to create and query these indexes, with the help of detailed examples. You will also learn how to deploy your RavenDB server in a production environment and how to optimize and secure it.
With numerous practical examples, RavenDB 2.x Beginner's Guide teaches you everything you need to know for building high performance .NET document-oriented NoSQL databases.
What you will learn from this book
Get RavenDB up and running on your local machine or server, and discover the RavenDB Management Studio
Interact with RavenDB using the .NET Client API and REST HTTP API
Map .NET objects to RavenDB documents
Create and query dynamic indexes, and single-map and multi-map static indexes
Implement map/reduce to process large datasets
Learn and implement paging, exact matching, and full-text search queries
Host RavenDB within IIS and run it as a Windows service or in embedded mode
Secure RavenDB using a replication bundle and optimize it with sharding
Approach
Written in a friendly, example-driven Beginner's Guide format, there are plenty of step-by-step instructions and examples that are designed to help you get started with RavenDB.
Who this book is written for
If you are a .NET developer, new to document-oriented databases, and you wish to learn how to build applications using NoSQL databases, then this book is for you. Experience with relational database systems will be helpful, but not necessary.
Book Details
Paperback: 356 pages
Publisher: Packt Publishing (September 2013)
Language: English
ISBN-10: 1783283793
ISBN-13: 978-1783283798
Download [28.4 MiB]