Raising Digital Families For Dummies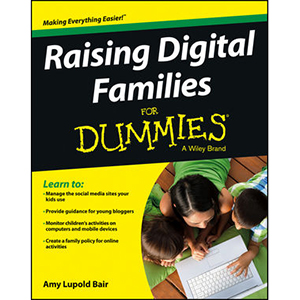 Get on the same online playing field as your children with this helpful resource
The youngest generation will never know life without iPhones, iPods, and Facebook, and while their parents have witnessed the evolution of technology, it is still a challenge to keep up with the pace at which things change. This easy-to-understand guide helps you get up to speed on everything you need to know NOW in order to keep up with your children's online and gadget activity. The book offers invaluable guidance for managing mobile devices, social media, and the Internet before it manages you! Also featured are tips and advice for establishing family rules for technology use and how to best handle situations when rules are broken.
Covers monitoring software for computers and mobile devices
Offers advice for handling cyberbullies and introduces safe social networks for children
Addresses how to guide children who want to blog or podcast
Provides information on helpful sites that you may want to explore for more issues on various issues that relate to the future of technology
Whether you want to control mobile device usage or monitor social network activity, Raising Digital Families For Dummies will guide you through acquiring a better handle on this important part of your children's lives.
Table of Contents
Part I: Living in the Digital Age
Chapter 1. Meeting the Digital Family
Chapter 2. Creating a Digital Family Policy
Chapter 3. Putting Safety First
Chapter 4. Displaying Online Etiquette
Chapter 5. Knowing Where Kids Are Turning On and Tuning In
Part II: Navigating the Digital World Kids Live In
Chapter 6. Decoding Gaming
Chapter 7. Preparing Kids for Online Chats
Chapter 8. Search Engines, Image Search Results, and Sponsored Links
Chapter 9. Becoming Aware of Online Advertising
Chapter 10. Talking to Your Kids about Cyberbullying
Part III: Grasping Social Media's Effect on Your Family
Chapter 11. Introducing Social Networking for Children
Chapter 12. Helping Kids Use Adult Social Networks
Chapter 13. Searching and Sharing Safely on YouTube
Chapter 14. Blogging, Creating, and Conducting Business Online for Kids
Part IV: Left to Their Own Devices
Chapter 15. Handheld Gaming
Chapter 16. Exploring Tablets for Kids
Chapter 17. Being Smart with Mobile Phones
Part V: Utilizing Online Family Resources
Chapter 18. Reading, 'Riting, 'Rithmetic — Online?
Chapter 19. Managing Your Family with Digital Resources
Part VI: The Part of Tens
Chapter 20. Ten Quick Tips for Parents
Chapter 21. Ten Social Networks for Kids
Chapter 22. Ten Other Places Your Kids Might Be Online
Book Details
Paperback: 360 pages
Publisher: For Dummies (April 2013)
Language: English
ISBN-10: 1118485084
ISBN-13: 978-1118485088
Download [37.6 MiB]